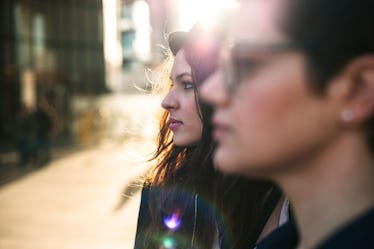 4 Signs You Might Care More About Having A Relationship Than About Your Actual Partner
How comfortable are you when you're single? Do you embrace the freedom, or does not having a partner make you feel adrift and isolated? Does it ever get to the point where you just want to be in a relationship for the sake of being in one? Well, it turns out, experts say there may be signs you care more about having a relationship than the person you are actually in the relationship with — and you might be able to identify them if you're willing to take an honest look at your relationship.
While admitting to yourself that you care more about being with a partner than your actual partner can be hard to face, according to Connell Barrett, Dating Transformation founder and executive dating coach, you're definitely not alone. "It's not uncommon to be more into the relationship itself than into the person you're dating," he tells Elite Daily. "This happens because we all have a deep need for romantic connection. It's wired into us. It's how we've survived for 200,000 years. We must couple up. When that need for connection is not being met, you can feel that loneliness. So you might settle for someone you're not that into because being in a relation fills that need and staves off feeling lonely."
The problem, Barrett says, is that these kinds of relationships end up short-changing you and and your partner in the long run. So, here's how to recognize the signs that care more about being attached than the person you're attached to.