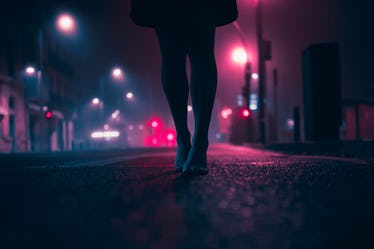 5 Practical Steps You Can Take To Fight Off Loneliness When You're Single
Being single and lonely don't have to go hand-in-hand, but if you are experiencing the blues due to the fact that you're not in a romantic relationship, that's totally understandable. Whether most of your friends are coupled up and it feels like you've been on your own for a while now, or you've gotten used to always being in a long-term relationship and are recently single, it can sometimes be difficult to deal. The single life definitely has its ups and downs, but rather than sit around and make yourself feel worse, there are steps you can take to counteract loneliness.
You shouldn't jump into a new partnership just because you're craving companionship. Instead, focus on forming meaningful platonic relationships and having genuinely fulfilling social interactions with other people. You can also bolster your own life by developing a satisfying relationship with yourself and becoming more familiar with tools to boost your own mood.
I spoke to Josh Klapow, PhD. clinical psychologist and host of radio show "Kurre and Klapow," about how to stop feeling lonely and start embracing your single status. By setting small goals and actively working toward them every day, you can fight those lonely feelings. You'll soon find new strategies, activities, and people to counterbalance any feelings of emptiness left by your last significant other. Here are five practical ways to fight off loneliness when you're single, because you deserve to be happy.