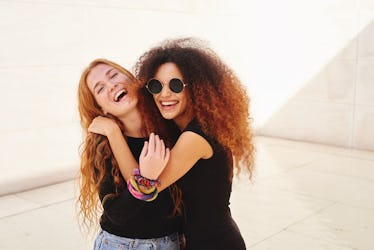 3 Sex Positions You Should Try If Your Love Language Is Giving Gifts
Often, when brainstorming the perfect present for a loved one, the phrase "it's the thought that counts" will come up. That saying definitely holds true if gift-giving is your love language. And it especially rings true in the bedroom. Prime sex positions if your love language is giving gifts will always that involve an extra dose of care, attention and thoughtfulness. The love languages are a concept introduced to us by relationship expert, pastor and author Gary Chapman's book The 5 Love Languages. (You don't have to buy the book to figure out yours; you can take the official test online for free.) The five languages are words of affirmation, acts of service, quality time, physical touch and of course, gift-giving. And while they don't necessarily have to apply to romantic love, they're super useful in the context of romantic and sexual relationships.
"Gift-giving doesn't always have to be a grand gesture. For a lot of gift givers and receivers, what's important is the thought, time, and love that goes into the gift," Dalychia Saah tells Elite Daily. Saah is a professor, speaker, and one half Afrosexology, a sex ed team creating digital space for black people to discuss their sexuality. If your or your partner's love language is gift-giving, you should brainstorm sex positions or moves the same way you would with any gift.
Start by asking yourself a few questions. "Is there something your partner has mentioned several times that they enjoy? Are there particular sexual fantasies they haven't explored? Is there a sexual act that they'd like to receive more often?" Saah offers. "All of this information should be considered when thinking of the ideal sexual gift giving experience."
Here are three sex positions that will simply keep on giving, no matter what the occasion is.