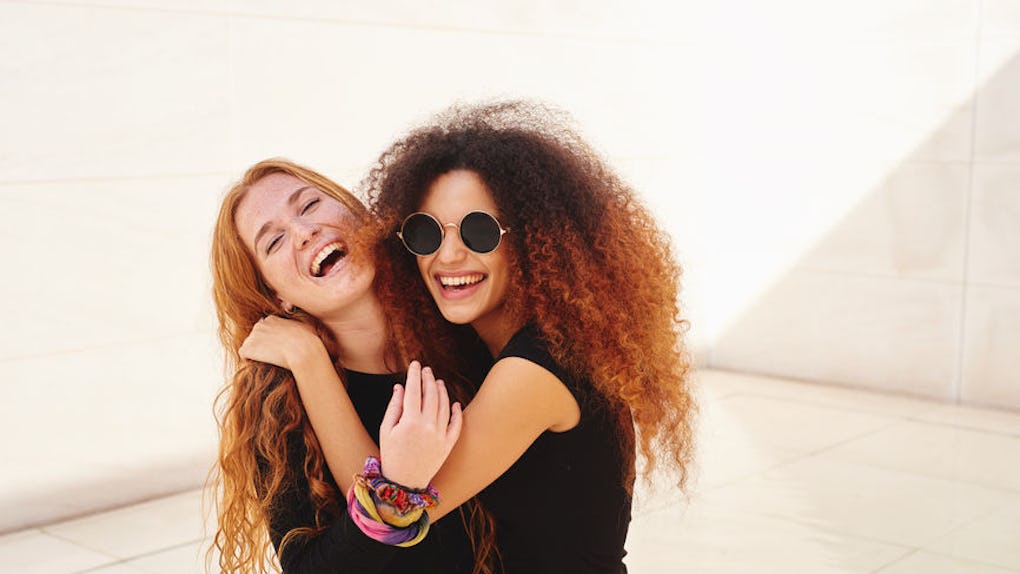 Guille Faingold / Stocksy
Try These 3 Sex Positions If Your Love Language Is Giving Gifts
Often, when brainstorming the perfect present for a loved one, the phrase "it's the thought that counts" will come up. That saying definitely holds true if gift-giving is your love language. And it especially rings true in the bedroom. Prime sex positions if your love language is giving gifts will always that involve an extra dose of care, attention and thoughtfulness. The love languages are a concept introduced to us by relationship expert, pastor and author Gary Chapman's book The 5 Love Languages. (You don't have to buy the book to figure out yours; you can take the official test online for free.) The five languages are words of affirmation, acts of service, quality time, physical touch and of course, gift-giving. And while they don't necessarily have to apply to romantic love, they're super useful in the context of romantic and sexual relationships.
"Gift-giving doesn't always have to be a grand gesture. For a lot of gift givers and receivers, what's important is the thought, time, and love that goes into the gift," Dalychia Saah tells Elite Daily. Saah is a professor, speaker, and one half Afrosexology, a sex ed team creating digital space for black people to discuss their sexuality. If your or your partner's love language is gift-giving, you should brainstorm sex positions or moves the same way you would with any gift.
Start by asking yourself a few questions. "Is there something your partner has mentioned several times that they enjoy? Are there particular sexual fantasies they haven't explored? Is there a sexual act that they'd like to receive more often?" Saah offers. "All of this information should be considered when thinking of the ideal sexual gift giving experience."
Here are three sex positions that will simply keep on giving, no matter what the occasion is.
Face-to-Face
Saah suggests role-playing a spicy scenario, making a sexy video, making a foray into bondage (for starters, your or your partner tying the other person up), or giving a sensual massage. Taking cues from Saah, a hot way to incorporate massage is to adopt a seated face-to-face position. One person sits on the other's lap, with their legs curled behind their partner. Not only can your partner take time teasing all of your erogenous zones. But you also get to engage in some delicious eye contact and share in all of your partner's reactions. Buy a massage candle and add some wax to your bedroom experience for an extra sensual touch.
Wracking your brain for any turn-ons that may have come up with your partner is definitely a sign of being thoughtful. And if your partner would be sure to take note. "[This] may be more meaningful to them," Saah says. "As it shows that you're invested in knowing and fulfilling their specific sexual desires."
The Draper
Rafaella Fiallo, a therapist who's the other half of Afrosexology, recommends a sex position called The Draper. "Have your partner sit on the edge of the bed and lay back with their legs draped down the edge. As you kneel between their legs, you are now in the perfect position to give fellatio or cunnilingus," Fiallo says. You can alter the pressure or intensity from this angle. If you're looking to turn it, why not bring a sex toy into the mix? Alternating between your mouth and a vibrator could be extra tantalizing for your partner.
Or, if vibrating sex toys aren't their thing, a butt plug or a nipple and clit clamp are solid, sexy substitutes.
Your partner can also drape or wrap their legs around your shoulders. And the Draper is also nice because the giver's hands are free, too, massage other body parts.
The classic 69
With gift-giving as a love language, Saah recommends the 69 position. "For some gift-givers, giving can be as pleasurable as receiving. 69 is the perfect positions for you to experience the joy of giving and receiving at the same time," Saah says. Lay side-by-side with your partner with your face near their genitals and vice versa. You can use your hands, lips, and tongue to stimulate each other.
"This position is ideal if you and your lover both have gift-giving as a primary love language. For some, the act of giving and receiving have a symbiotic relationship, where the more you receive the more you desire to give or vice versa, " Saah explains. This dynamic could lead to you and your partner both trying to "out-give" each other orally, which Saah says, "which ultimately enhances the experience."
Saah also suggests anal play as well, saying, "Don't forget to play with the anus while you're down there!" If you and your partner want to get into anal sex, you have to remember: Lube is key. Dr. Evan Goldstein, founder of anal surgery practice Bespoke Surgical, told Elite Daily, "Unlike the vagina, the anus does not self-lubricate, which means you need lots of lube in order to successfully — read: minimizing injury and maximizing pleasure — have anal sex." In general, Goldstein recommends silicone-based lube. When using silicone sex toys, on the other hand, Goldstein says, "Reach for the water-based stuff."
Overall, Fiallo suggests, "One of the best things you can give your partner is a consensual and satisfying sexual experience. Sexual satisfaction goes beyond an orgasm and includes feeling safe, heard, and valued during the sexual experience." As this applies to love languages, make sure that — if you're the one with gifts as a love language — that your partner's language is also spoken. That way, all parties are satisfied.
When it comes to sex, words of affirmation translate to extra sweet and complimentary dirty talk. Pleasuring your partner with strap-on could be the ultimate act of service in bed. The curled angel — a sideways spooning sex position that allows for closeness and extra G-spot stimulation — is prime for quality time. A literally wet doggy style is a sex position that maximizes physical touch.
Some say it's up for debate whether the five love languages are real and if there's any merit to them. But what's undeniable is that engaging in these three indulgent sex positions will have your partner all riled up and extra appreciative of your generosity.