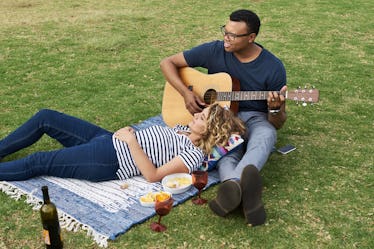 4 Date Ideas If Your Love Language Is Words Of Affirmation, Because Words Are Powerful
Everyone loves a good personality test, am I right? Figuring out your Myers-Briggs or what number enneagram you are is fun, and it may ultimately help you better understand yourself and your relationships with others. So can figuring out your love language, which can be a play a big role in how you show and receive love. There are five different love languages, and you can totally have more than one, but these date ideas if your love language is words of affirmation will have you and your partner feeling all kinds of romance.
Now, to be clear, you don't have to be a words of affirmation gal to love these date ideas, but they'll definitely make you feel appreciated and loved if you are. Whether you're quality time, acts of service, receiving gifts, or physical touch, going on special, thought-out dates is probably important to you, regardless of which love language it's catered toward.
But for all my fellow words of affirmation peeps out there, these dates will help you and your partner feel closer, more in love, and really understood. "Understanding love languages not only requires understanding the person and how they are different you, but that what is important to them is different from what is important to you," senior matchmaker and dating coach Lori Salkin told Bustle, "and being able to separate your wants and needs from theirs to give them what they want and trust in return that they will give you what you want while neither of you is acting for yourself, but only for the other."
So, get going on these dates, and feel all the love!