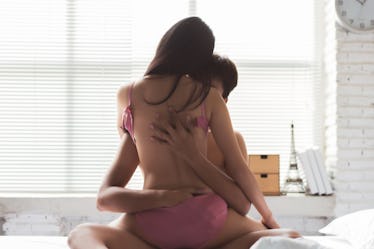 If Your Love Language Is Quality Time, Try These 4 Intimate Sex Positions
Sometimes, the hardest love language to speak to your partner is quality time. It seems like life gets busier and busier, and the opportunities to take a beat and focus all your attention on your partner are fewer and fewer. But a great way to make sure you're getting that quality time if your schedule is packed? Sex! Sex positions if your love language is quality time can be really special and intimate. If you can't set aside a relatively big chunk of time for a getaway (which, if you can, you definitely should!), find opportunities to squeeze in some bedtime action with positions that speak to your love language.
If you aren't familiar with what "quality time" means when you're specifically talking about love languages, it's basically all about togetherness. That doesn't just mean being in the same room, but being 100 percent focused on one another without distraction. So, when choosing sex positions that speak to the love language of quality time, chose ones that maximize connection and aren't so complicated that they can't be sustained for longer periods of time — ones that really focus on being present and make it easy to be aware of what you are each experiencing in real time. Sure, there are definitely more complex and adventurous positions, and they can be fun, but they don't aways make it easy to connect. So, for some solid quality time in the bedroom, give these positions a try tonight.