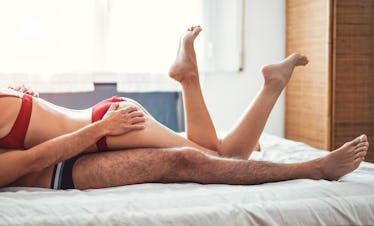 If Your Love Language Is Physical Touch, Try These 4 Sex Positions
If you're looking for new ways to show your partner how you feel about them, one of the easiest ways is to find out what their preferred love language is and use that knowledge to really express to them what is in your heart. If it just so happens that your or your partner's love language is physical touch, well, get ready to have a great time — ahem — showing each other your love.
If you aren't familiar with the concept of the five love languages, they originate from the book The Five Love Languages: How to Express Heartfelt Commitment to Your Mate by Dr. Gary Chapman. In the book, Dr. Chapman explains that there are five categories of ways we express love for one another: Words of affirmation, quality time, acts of service, receiving gifts, and physical touch. All of these love languages can be applied to help improve your communication, including in the bedroom.
While any sex position will satisfy a partner for whom physical touch is their love language, there are some that are even better than others. For instance, some of the more advanced sex positions are really just some variation on trying to make the geography of your genitals match to various degrees of difficulty. Don't get me wrong, that can be plenty of fun, but often times these positions forget about the simple pleasure of maximizing skin-to-skin contact. While these positions may not be the most elaborate, they are sure to please — because they focus on full body touch, varying sensations, or leaving the hands free to explore. So, if your boo lives for physical touch, tell them you love them with one of these positions tonight.