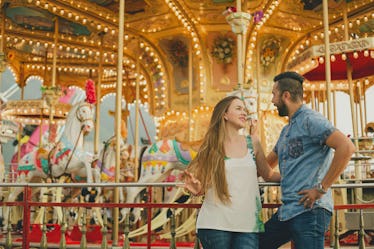 5 Date Ideas If Your Love Language Is Receiving Gifts, Since It's The Thought That Counts
When it comes to relationships, expecting to receive gifts isn't always a solely materialistic thing. In fact, if being gifted something thoughtful makes your partner's heart sing more than, say, doing something nice for them, don't sweat it — receiving gifts is a legitimate love language. The best date ideas if your love language is receiving gifts usually involve a token of affection. However, this doesn't mean that the gift or token has to be extravagant to meet the mark.
Knowing how you and your SO give and receive love is such an important part of making sure both of your needs are being met. It's easy to make the mistake of assuming everyone experiences love the same way, but according to Dr. Gary Chapman, author of The Five Love Languages: How to Express Heartfelt Commitment to Your Mate, this isn't necessarily true. In his book, Dr. Chapman points out that while all five love languages might sound nice, most people tend to receive and appreciate one or two of the love languages better than the others, and this unique combination makes up our individual love profile.
When it comes to receiving gifts, it's not about how much money you spend or what exactly it is you buy them, but rather, it's about communicating to your partner that they were on your mind. "A gift says, '[They were] thinking about me. Look what [they] got for me,'" wrote Dr. Chapman. Since dates are a great opportunity to make your partner feel the love, here are some fun date ideas for anyone who loves receiving gifts as a token of your love for them.