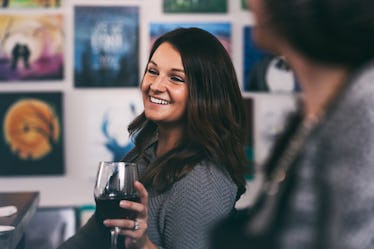 This Wine & Paint Your Pet Class Is Exactly What Your Girls' Night Needs
One of the best classes to ever be created is the sip and paint. You combine your love for wine and love for the arts, all in one sit-down. These classes are so worth it, and you will enjoy taking one with a group of your favorite ladies. The best wine and paint classes vary, which is cool because you and your girls will have options.
They can be themed, have an awesome BYOB policy, or be lead by an instructor who really keeps you focused, entertained, and helps you out. Sipping wine and painting sounds so simple, but that's exactly what makes it so relaxing. No one's judging the next painter, and those subtle clinks of wine glasses break those silences between sips — because whatever is in your glass is just so damn good.
No two classes are ever really the same, because you're either painting something different or encountering new people. As long as there's wine, though, you don't leave much room for complaining. If you haven't already been to one, definitely consider making it a girls' night out kind of thing. Don't sleep on the good stuff, because the best classes are seriously only a sip and brushstroke away.