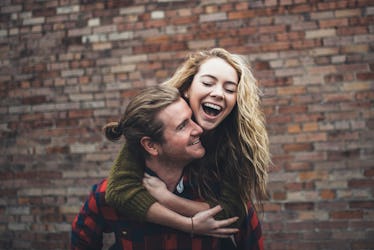 5 Women Reveal What Falling In Love Feels Like & Their Answers Will Make You Melt
There's nothing quite like falling in love. Oftentimes, the feeling just hits you out of nowhere. Your partner will look at you or say something totally ordinary, and you'll suddenly realize you're in love with them. There's a reason love is the subject of so many songs, poems, and novels. The feeling itself is slightly different for every person, and yet it is an experience that can be universally understood. For those of you who have yet to fall in love, you might be wondering, what does falling in love feel like? In my opinion, if you have to ask, you're not there quite yet — and that's OK. You can't rush real love.
If you're craving the feeling, give the below stories a read. Live vicariously through these women in love, if only for a few minutes. You'll likely feel reinvigorated and newly inspired to go looking for your own fairytale. So walk around your neighborhood, swipe on Tinder, or give your cute friend a chance. While you don't want to force it, there's nothing wrong with stacking the odds in your favor. Love is the most sought after feeling in the world, and these women are lucky enough to have found it. With a little luck (and a lot of first dates), you will, too.