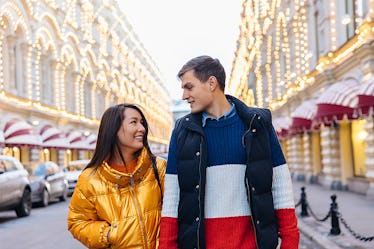 Experts Reveal 6 Things You'll Notice If Your Partner Is Falling In Love With You
Falling in love is one of those things that can be simultaneously terrifying and amazing. But falling in love looks different for everyone. Some people show their love with their actions, while others do it with their words. Regardless of how someone shows their love, there are a few things you'll notice if your partner is falling in love with you that will make you feel all the feels. If you start to notice these things about your partner, and you're not sure if you feel the same quite yet, fret not. There is no specific timeline you're supposed to follow when it comes to love, or even relationships in general.
"Emotions are on their own timeline," Dr. Benjamin Ritter, founder of Live for Yourself Consulting and The Breakup Supplement, tells Elite Daily. "They're individually based. So, someone may start to fall in love way before someone else does. If you both have made a commitment to the relationship, that doesn't matter as much because you both then can grow at your own pace." So, if it seems like your partner's changed in some way, but you can't pinpoint exactly what it is, they may be falling in love with your gem-like self. (Because why wouldn't they?) Here are six things you may notice if they're falling for you.