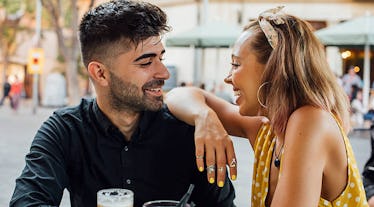 4 Subtle Signs That Your Partner Is Ready To Say "I Love You," So, Brace Yourself
In most every relationship, there are some very obvious milestones. No matter how the relationship started, at one point or another, you and your partner will have to define the relationship, decide how serious you are, say "I love you," and maybe even move in together. But it's that third one that's probably the most intimidating. Fortunately, these subtle signs your partner is ready to say "I love you," will prepare you for when it actually happens.
While it may be nice to have the "I love you" happen spontaneously and catch you off guard, if you're concerned at all about how it will all go down, or just wondering how your partner feels, then you can definitely gauge a lot from their day-to-day behavior.
So, if you're feeling like you're ready to say those three big words to your partner, but want to make sure that they feel the same way, then just look closely at how they're acting around you, your family, and your friends. Additionally, the words they say and other little things they do can actually say a lot more about your relationship than you might have originally thought.
So, let's dive right in shall we?