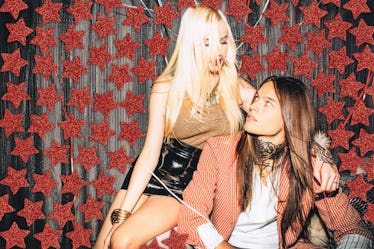 These Are 7 Things You'll Notice If Your Partner Is Secretly In Love With You
Cuffing season is upon us, which might mean you've been cozying up with a new boo. Is it love, or are you just hooking up? If you're casually dating someone, in a friends-with-benefits situation, or in the beginning stages of a budding romance, it can be tough to figure out exactly where your partner's head is at. You might even be wondering, Is my partner secretly in love with me?
When you're in the beginning stages of a relationship, it can be difficult to tell exactly when your bae goes from feeling you, to sprung, to totally infatuated. Sometimes, people can fall in love right off the bat, while other times, it may take a bit longer. Also, you could be in that nerve-wracking stage where "I love you" is right at the tip of your tongue, but you're waiting for the other person to declare it first.
Shaelyn T. Pham, PhD, psychologist at Psychological Services & Holistic Health, Inc. and bestselling author of Love Match tells Elite Daily that "the best indication that you can count on is when they tell you that they're in love with you." Well, that might be obvi, but if you catch feelings in a relationship that's just a little bit too new to be exchanging ILYs, is there any way to know that they're feeling the same way?
According to experts, here are seven signs that your partner is secretly (or maybe not-so-secretly) in love with you.