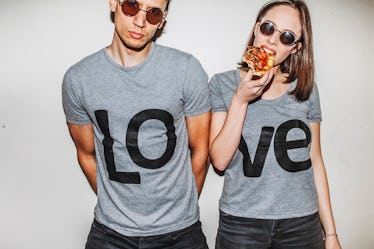 5 Signs Your Partner Is In Love With You On Some Level But Doesn't Truly Love You
I've said it once, and I'll say it again. It takes time to fall in love with someone. I'm as much of a sucker for the idea of love at first sight as any other '90s girl raised on Disney Channel Original Movies, but the dating writer in me knows the difference between love and lust. You can certainly be intensely attracted to someone right off the bat, but truly loving them, warts and all, can only come with time. So, if you think your partner is in love with you but doesn't love you fully, maybe it's just too soon.
There are some potential signs that might indicate your partner is falling for you, even if they aren't completely attached yet. I spoke with two relationship experts about being "in love" versus really loving someone — and their insights are fascinating. Just remember that these five signs that your partner is in love with you but doesn't love you fully aren't necessarily red flags. They only mean that your relationship still has the potential to develop and your feelings have time to intensify.
"Love is a multifaceted emotional state that can grow over time based on our personal growth, experiences with each other, and perspective on our world," says Jen Elmquist, MA, LMFT, relationship specialist and co-host of Evine After Dark. "The process of supporting one another long-term, through ups and downs, often expands and secures our bonds of love."