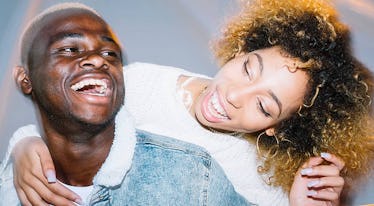 When Your Significant Other Is In Love With You, Here's How You'll Know
Being in love is a magical thing, but it doesn't always look the same for every couple. Some people fall in love and never express that love, others fall in love with someone who doesn't feel the same way, and sometimes people fall in love but can't make it work. Then, there are the lucky ones who fall in love and whose love is returned. But how can you tell if someone reciprocates your love? Well, when your significant other is in love with you, there are definitely ways you can tell, and they're super sweet.
Maybe your partner hasn't said they love you just yet, or maybe they've said it, but you're starting to worry they didn't mean it. Whatever the case, there are plenty of signs that your significant other is in love with you, even if they can't get the words out. If you don't want to press the matter just yet, then looking at their actions and other things they're telling you is a great way to gauge how they're feeling.
Try not to freak out or panic. Just because they haven't verbalized their feelings, doesn't mean they aren't actually feeling the love. People express love differently, so if your bae is showing any of these signs, chances are it's probably love.