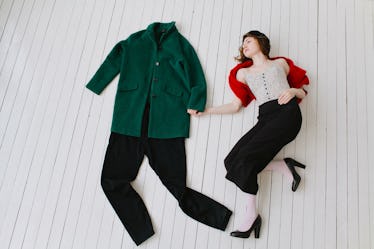 3 Signs You're Too Scared To Say "I Love You," Even If You're In Love
You're walking in a field of wild flowers (read: down a trash-covered city sidewalk) and all at once, your SO says it: "I've been thinking about this for a while... I love you." You think you love them too. No, you know you do. But do you say it back? Are you ready to say it back? Are you too scared to say "I love you"?
Maybe they said it on a subway ride or one morning in bed. Maybe they stood across your window and wrote it on a post card, T-Swift Style. You think of them often. You do the little things for them, and you prioritize their well-being. You don't want to be seeing anyone else. You know you're in love, you just don't know how to say it. Being nervous to say those three little words is completely natural. Not everyone is a verbal communicator, nor did everyone grow up saying or hearing "I love you" often.
Some people mainly communicate with words, but many others show their feelings through different means, such as with actions. If you find it's not easy for you to talk about your own feelings, it's completely understandable how your feelings that involve other people might feel even harder to express.
I reached out to life and relationship coach Nina Rubin and author and relationship expert Alexis Nicole White about the signs that you're in love, but are too scared to say so.