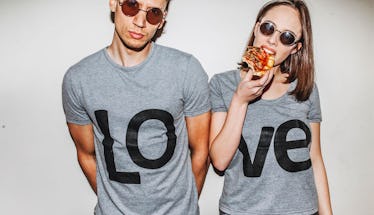 25 Small Ways To Say "I Love You" Without Having To Drop An L-Bomb
My partner and I speak very different love languages. They need to hear how I feel on a regular basis, whereas I am all about showing, not telling. To me, talk is cheap; I want to see action. I think how you behave is how you feel. But just because we aren't speaking the same language doesn't meant that we aren't communicating our feelings. There are plenty of small ways to say "I love you" without having to actually say it, even if your partner's love language is all about getting those words of affirmation.
If you aren't familiar with the concept of love languages, here's the background. It was developed by Dr. Gary Chapman, in his book, appropriately titled The Five Love Languages. In it, he explains that we all have a particular way of communicating our love, and ways that we, in turn, hope to receive it. So, by paying attention to how your partner expresses love, you can gain insight into how they hope you demonstrate your feelings to them. Makes sense, right? Chapman's five love languages are: words of affirmation, quality time, receiving gifts, acts of service, and physical touch.
Depending on your communication style, or where you are in your relationship, you may not be completely ready to drop an L-bomb — or maybe you are, but you just want to improve how you express your love. Either way, there are lots of small but heartfelt ways to tell your boo just exactly how you feel without having to verbalize it, and you can cater it to their love language so they're sure to pick up what you're putting down. Here are some ideas to get you started.