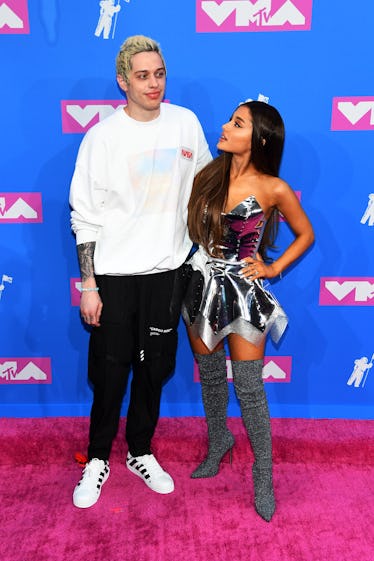 Ariana Grande & Pete Davidson's Outfits At The VMAs Are Out Of This World
Nicholas Hunt/Getty Images Entertainment/Getty Images
It's true that the stars try to put their best, most fashionable foot forward when it comes to a red carpet affair, but one of my personal favorites has been Miss Ariana Grande. After years of rocking her iconic half-up pony, she's made a point to switch up her style. As a result, I knew Ariana Grande's 2018 VMAs look would be one to get excited about this time around, and it's safe to say the singer really went above and beyond.
If I had to describe Grande's style, it would be some sort of crossover between sporty, cool-girl chic and classic old Hollywood glamour. She regularly manages to take chill elements like ponytails and crop tops and make them look luxurious and so elegant.
Besides the fact that she's absolutely dominated every other red carpet lately, the other reason I've got my eye on Grande for this year's show is because we didn't even get an Ari VMAs look last year. (Thanks to her Dangerous Woman tour, she wasn't there.)
When Grande showed up this year at the VMAs, she decided to serve some space goddess realness, and I'm here for it.
Grande wore a silver mini dress with over-the-knee silver sock boots. If you recall, MTV's VMAs statuettes are silver moon men, and I personally think Grande had that in mind when she chose this outfit. To top it all off? Grande's fiancé, Pete Davidson, wore a NASA sweatshirt to complete the couple's look, plus a bracelet with the singer's (future?) initials, AGD, on it. (Ariana Grande Davidson, I'm assuming?)
Anyway, talk about #couplegoals.
Here's the "AGD" bracelet in Davidson's outfit up close.
During her performance of "God Is A Woman," Ari switched things up from silver to gold and wore yet another futuristic, embellished look.
This time around, she paired a metallic bustier with an asymmetrical skirt and over-the-knee, sequined, cheetah print boots.
Prior to the show, Grande also shared a snapshot on her Instagram stories of her rehearsal ensemble, featuring a black crop top, an oversized scrunchie on her wrist (for a possible half-up hair moment), and camouflage-printed pants that featured a garter-like look. (Or perhaps they're shorts with detachable camo leg warmers? I'm not 100 perfect sure, but I am 100 percent certain she rocks it like a boss.)
Even though we missed out on a fierce Ari OOTD last year, there are still tons of VMA looks in the Ari Vault that I consider iconic and all-around fab.
At the 2016 VMAs, she rocked her go-to crop-top-and-ponytail look with some added lace.
The lacy crop paired with not-your-father's tuxedo pants, the signature black choker of the moment, in addition to the ombré, crimped ponytail with straight-across bangs all worked together to complete this look. And can we talk about her white nails that contrasted it all? It's practically too good to be true. (Please don't fight me on this.)
Grande even continued the "crop top and pants" trend later that night via her performance outfit, which featured a white satin bra and joggers paired with a hot pink mesh duster, matching pink lace-up booties and her partner-in-crime Nicki Minaj in a bubblegum-colored bodysuit.
These outfits are giving me life.
Need another throwback? Please direct your attention to Ari's first VMAs look in 2013, which was so floral and adorable.
The longer I stare at this blast from the past, the more I'm starting to miss old-school Grande's vintage-inspired, ultra-feminine style. It's not nearly as "cool" as her current vibe, but it was cute nonetheless, and I love a transformation!
It's safe to say, though, this year's look has instantly earned the title of my new favorite. Shoutout to the Queen of Pop for gracing us with yet another amazing red carpet moment.
Fingers crossed "space age chic" becomes a huge trend for fall 2018.