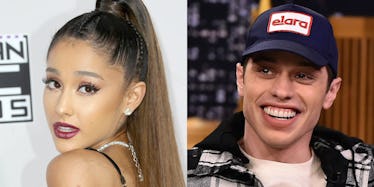 Ariana Grande Revealed If She'll Change Her Last Name When She Marries Pete Davidson
Frederick M. Brown/Theo Wargo/Getty Images
Ariana Grande made it perfectly clear what her connection with Pete Davidson is on Sweetener when it dropped on Aug. 17. Simply put, he's her soulmate. Davidson, no doubt, feels the same way, but will Ariana Grande change her last name when she marries Pete Davidson? In an interview with Apple Music's Beats 1, the singer dished on her plans to change (or not change) her name once she marries the Saturday Night Live comedian (whenever that may be...). Her answer comes in a few parts.
"I have to keep Grande because of my Grandpa," she said. "I think of him with everything I do in it and he was so proud of our name, I should keep it." Going off of that, she says she plans on hyphenating her name to be Ariana Grande-Davidson. But there's more.
She reveals that she wants to join the ranks of Beyoncé, Rihanna, Adele, and Madonna and be one of those pop stars who only goes by their first name. "I feel like I'd eventually just be Ariana. Isn't that sick? I feel like it's got a ring to it." I feel like if fans were going to collectively call her by one name it would've happened already, but hey, I can't tell the future.
Ariana Grande's Beats 1 interview revealed a lot about her and Davidson's plans for the future.
Ebro Darden asked if the wedding would be in the next five years, and Grande said, "Years, less; months, more," so the wedding won't be happening until 2019 at the earliest. She said in another interview on the Zach Sang Show that she never thought she would get married at all, and then she fell in love with Davidson. "I'm not like a very traditional person so the fact that I'm getting married is something I never even saw coming," she said. "I never saw that coming, I never wanted that." She continued, "I was like, 'F*ck that, there's no point.' Like, what's the point? Then I kind of understood it once I found the right person."
Davidson revealed in his interview with GQ that once he and Grande started talking, that was it for him. "The day I met her, I was like, 'Hey, I'll marry you tomorrow," he told GQ. He continued,
She was calling my bluff. I sent her a picture [of engagement rings]. I was like, 'Do you like any of these?' She was like, 'Those are my favorite ones,' and I was like, 'Sick.'
Grande also spilled the details on how he proposed to her with said ring. "He didn't get on a knee, thank God," she said on Zach Sang. "No, that would've been so googly."
The future Mrs. Grande-Davidson finally revealed in her Beats 1 interview that she wants three mini Ari and Petes running around. "Eventually, I want down the line," she said, "probably, like, three kids." But will the kids' last names be Grande-Davidson? That's still TBD. Grande's got a Sweetener tour to complete before any of that happens.