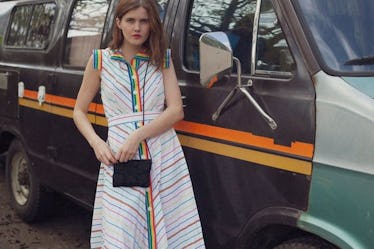 10 Vintage Dresses From Etsy That Will Help You Nail Throwback Style On A Budget
I've been trying to cut down on shopping at fast fashion retailers, instead opting for thrift or vintage stores. Unfortunately, the latter tend to be ridiculously expensive (at least in New York) and the former can be overflowing with a lot of junk. These 10 vintage dresses from Etsy are not just affordable but also in great condition and hassle-free to find. If you haven't considered Etsy before for your vintage desires you definitely should now.
I won't deny the thrill of finding an exceptionally special retro piece in-person at a cool hole-in-the wall shop. There's something about flipping through dated piece after dated piece in hopes of coming across something that catches your eye and splurging on it. Special, yes—but also incredibly time and money consuming. While it's understandable that vintage can be costly (it's usually due to a mixture of age, hand-sewn details, repairs, rareness, etc.), in my opinion it's often marked up to a ridiculous level, especially in big cities where fashion reigns supreme. (I bought an amazing faux fur coat at a vintage store in Colorado for half of what it would've cost me in New York.)
Needless to say, shopping for vintage can be frustrating. But Etsy makes it less so. You simply put in exactly what you're looking for, choose a price range, enter your size, and voila, you'll have tons of options right at your fingertips. Take a look ahead at 10 of the coolest vintage dresses—from '70s boho to '90s grunge—on the site right now.
Flower Child
Ruffled edges, a built-in corset, all-over flowers—it doesn't get more far out than this! Donna Pinciotti would slay in this dress.
From Here & There
This dress looks like it's confused as to which decade it's from. It's groovy print screams '80s but it's slinky spaghetti strap silhouette is '90s all the way.
Graphic Design
I love oversized '90s dresses and own about eight that I wear on the regular. I'd pair this one with white sneakers and a ponytail for a chill daytime look and would dress it up for a night out with heeled black booties and a red lip.
Coming Up Daisies
The sweetest dress on earth, hands down. If truly retro style is your thing you need this piece.
Bright Whites
While this might've been a wedding dress in the '80s it's definitely an everyday dress in 2018.
Pink Persuasion
Not only is this dress from Japan but it features a gorgeous pink, cream and gray palette and delicate plant design. Need.
Keep It Simple
The skater dress of the 60s.
Rainbow Brite
Seeing a rainbow everything is trending for summer 2018, this dress is a modern vintage must. (Did that make sense?)
Sunny Disposition
Because nothing beats a '90s grunge dress blooming with sunflowers.
In Stitches
This crisp white dress from the '60s features colorful hand-embroidered flowers in cute little patches all over its bodice. I'd pair it with a straw bag and brown leather sandals for a breezy, feminine look.