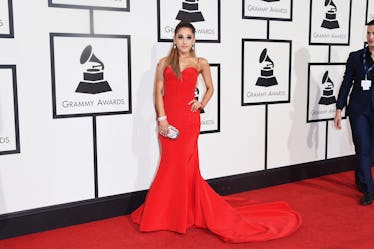 Ariana Grande Snuck Past The Grammys Red Carpet & Fans Are Not Happy
Jason Merritt/TERM/Getty Images Entertainment/Getty Images
It's no secret that Ariana Grande keeps it pretty low-key for a pop princess. After snagging Grammy nominations in both 2015 and 2017, the singer-songwriter has earned a well-earned break from the stress. So, this Grammys season, it's nice to know Grande will be able to just sit back and relax for a change. So, is Ariana Grande at the 2018 Grammy Awards? She was a no show for the red carpet — but a few eagle-eyed fans caught her in the background.
UPDATE: Despite all our dearest hopes, Ariana Grande didn't make a prominent appearance at the Grammys on Jan. 28. Grande did not, sadly, perform — despite the rumors — and she was more or less missing in shots of the audience, despite apparently being caught on camera at the back of the red carpet. Maybe she was just dropping someone off? The Grammys are a mysterious place.
EARLIER: Despite her sneaking past the red carpet, the pop princess has in fact arrived to the Grammys. In fact, it's said that she will be performing and premiering a new song called "Feeling It" during this special night. We should only be so blessed.
Despite earning major nods in the past, Grande wasn't nominated for any Grammys in 2018. Her second studio album, My Everything, was nominated for a Grammy in 2015 for Best Pop Vocal Album, and her most recent project Dangerous Woman received a Grammy nomination for the same category in 2017.
Despite the nods, Grande skipped the 2017 Grammy Awards, which took place on Feb. 12, 2017. Since her Dangerous Woman tour kicked off Feb. 14, 2017, it's easy to assume that Grande was too busy prepping for the lengthy tour to attend the annual awards show. Grande was there in spirit when she posted an Instagram on the night of the awards show, expressing her appreciation at the numerous nominations.
Only Ariana Grande could casually walk past a slew of eager reporters hoping to talk her ear off. This year, a few fans saw her sneaking through, however.
Her low-key red carpet walk wasn't the only thing exciting fans, though. Since the announcement of her spontaneous performance, fans have been eagerly awaiting to see Grande strut her stuff while premiering her latest record.
Since her tour ended on June 17, 2017, it appears from Grande's Instagram that she's been taking some much deserved R&R by hanging out with friends and rapper boyfriend Mac Miller. However, on Dec. 31, 2017 she did upload a short video clip of a few vocal tracks, along with a cryptic caption stating "see you next year."
Stop playing with us Ariana, we can't handle much more.
But past her amazing voice and stage presence, Grande is also known for her forever-changing fashion style. From humble beginnings in floral print baby doll dresses in 2013 to rocking thigh-high boots with a strapless mini dress just a year later, Grande can work literally any outfit that she throws on. So even though we've been deprived of seeing the fashionista hit the Grammys red carpet over the past few years, we can always expect to be impressed.
Grande's constantly-evolving style could be linked to her emphasis on self-expression and always being comfortable in her own skin. Since partnering with sneaker company Reebok, Grande opened up in an interview with Allure about her own quirks and how she uses them to showcase her self-expression, as well as defying "gendered" clothing.
She said,
I'm a huge advocate of self-expression, being yourself, and encouraging people to embrace who they are and the things that make them beautiful. I love people's uniqueness, the quirky, weird, interesting, and different things about everybody.I don't really believe that clothing has any specific gender. I don't really like stereotypes, or any sort of 'boxing' of women, men, or people, in general. Boxing people in, labeling, it's all just really unnecessary.
Despite numerous awards, a loyal fan following, and basically trademarking the high ponytail, it's inspiring to see that Grande can remain down to earth through it all. When the announcement came on Dec. 6, 2016 of her two Grammy nominations for the 2017 Grammys, Grande whipped out a tweet that expressed what all of us were feeling.
Same, Ariana. Same.
Although Grande might not always be able to grace us with her presence, rest assured it's usually because she has much more in store. Following the Manchester Arena bombing that took place after Grande's concert on May 22, 2017, the pop performer avidly organized the One Love Manchester benefit concert. The concert, which took place June 4, 2017, drew national attention from the public, with appearances from fellow musicians including Justin Bieber, Miley Cyrus, Pharrell Williams, and more. Tickets for the concert sold out within minutes, and ultimately raised up to $2.6 million.
Pop queen. Fashionista. Actual angel. Ariana Grande, everyone.