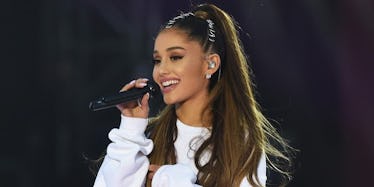 Here's What Ariana Grande Looked Like At Her First VMAs
Getty
A lot of things have changed in the past four years, and I'm not saying that Ariana Grande's transformation from redheaded Nickelodeon teenybopper into international superstar is the most monumental change in that time period, but it's definitely up there. Grande is attending her fifth MTV Video Music Awards ceremony on Sunday, August 27, where she's up for two major awards, so what better time than now to look back at Ariana Grande at her first VMAs, back in 2013 when she was just a newbie pop star who we didn't know would become one of the biggest names in the business.
Ariana Grande first attended the VMAs in 2013, when she was actually better known as an actress than a singer. Grande's long-running Nickelodeon series Victorious had just ended at the beginning of that year, but she had found continues work on her spinoff series Sam & Cat, which had premiered a couple months before the awards show. It was also at this time that Grande was making her first moves into mainstream pop stardom, having just released her debut studio album Yours Truly. The breakthrough single from that album, "The Way," would go on to launch Grande into the pop stratosphere.
But perhaps the biggest difference between Ariana in 2013 and Ari now was her look. Though she was still rocking her signature ponytail, Grande opted for a much more sweet and wholesome style than she's known for nowadays. Grande hit the red carpet in a floral dress.
Compare that to Ariana Grande's current international pop star style, which include more fierce latex than sweet, little floral patterns. Of course, Grande was still representing the children's network Nickelodeon back then, so the more demure look makes sense.
Ariana Grande also performed at the 2013 VMAs. During the pre-show, she sang her first two singles from Yours Truly: "Baby I" and "The Way." Check out the throwback performance below.
This year, Ariana isn't performing, but she may still take the stage if she wins one of the two awards she's up for. Grande's music video for "Side To Side" is nominated for Best Choreography, but the big award is Artist of the Year, which she's up against Bruno Mars, Lorde, The Weeknd, Ed Sheeran, and Kendrick Lamar for.
The 2017 MTV Video Music Awards will air Sunday at 8 p.m. ET on MTV.