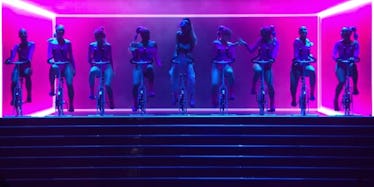 Ariana Grande Literally Held A SoulCycle Class During Her VMAs Performance
MTV
There are pros and cons to Ariana Grande's MTV Video Music Awards performance on Sunday night.
Pros: She slayed and sounded absolutely amazing, as always.
Cons: It was literally a singing SoulCycle class on stage. Or maybe that's just an extra pro?
Ariana helped MTV get the night rolling with her performance of her song "Side to Side," featuring Nicki Minaj.
Like I said, Ariana sounded great, Nicki killed it as per usual, but... the entire thing was done on exercise bikes.
Yep, it was basically just a very glamorous and sexy SoulCycle class in Madison Square Garden.
Ariana and her backup dancers looked the way you'd like to think you look while you're riding that exercise bike, when in reality you look like a drowned rat.
The SoulCycle motif did not escape the internet's notice — and many suspect this was a sponsored performance.
Ha, better luck next time, SoulCycle! You cannot brainwash me with your sneaky VMA commercials just because Ariana Grande looks fabulous on a fake bicycle.
Unrelated, but I just signed up for SoulCycle classes for next month. What, it looks really fun, OK?!
For more live coverage of the MTV Video Music Awards, check out Elite Daily's Facebook page and Snap Story, elitedailysnap.