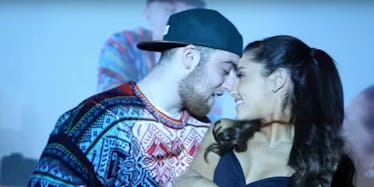 Ariana Grande And Mac Miller Are Crushing The Couple Goals Game On Snapchat
YouTube
You think your couple game is strong? PAH. I spit on your couple game. Now Ariana Grande and Mac Miller, their couple game IS strong. Maybe too strong.
Only the other day the lovebirds were pictured getting inked up together. Now, the two are goofing around on Snapchat, which we all know pretty much seals a long-term relationship.
Their Grande-sized love has been immortalized with the deer and duck filters.
Started from the bottom, now we're deer.
I guess you could say they're quite FAWNED of each other...
...and they're definitely good at quacking each other up.
[Insert animal pun here.]
News of Grande and Miller's romance kicked off when they were pictured together smooching at a sushi place.
The couple was pictured making out in Katsu-Ya sushi restaurant in Encino, California last Sunday night.
They look soy into each other -- I guess this makes them o-fish-al. Miso happy.
Witnesses say the couple couldn't keep their hands off each other. They were giggling and Ariana even sat on Mac's lap.
In interviews, Mac previously shrugged off talk of a relationship, always maintaining they're just friends.
But we all remember THAT music video...
Citations: Ariana Grande and Mac Miller Are Snapchat Official -- See the Pics! (Entertainment Tonight)