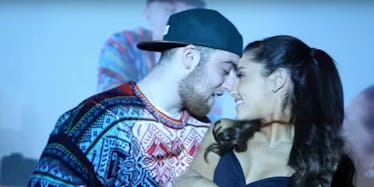 Ariana Grande And Mac Miller Were Spotted Making Out And There Are Photos
YouTube
Ariana Grande and Mac Miller's romance was hidden in plain sight in their 2013 music video -- but we chose to ignore it!
Now we have the cold, hard evidence.
The couple was pictured making out in Katsu-Ya sushi restaurant in Encino, CA on Sunday night, TMZ reports.
They look soy into each other -- I guess this makes them o-fish-al. Miso happy.
Witnesses say the couple couldn't keep their hands off each other. They were giggling and Ariana even sat on Mac's lap.
In interviews, Mac previously shrugged off talk of a relationship, always maintaining they're just friends.
The Twitter reaction to this newly formed couple is... mixed.
But let's take a little walk through time.
Remember the 2013 hit "The Way"?
In the music video, things get increasingly tasty between the two throughout.
The whole thing is basically them grinding up against each other and looking lovingly into each other's eyes.
Then, at the end, THEY KISS. For quite a long time. Like, an uncomfortably long amount of time.
Ariana recently broke up with her backup dancer boyfriend Ricky Alvarez.
I guess you dim sum, you lose some.
SUSHI PUNS.
Citations: TMZ