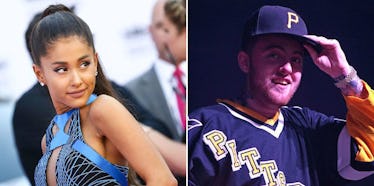 Ariana Grande And Mac Miller Are Already Getting Tattooed Together
REX/Shutterstock
Things are moving fast for Ariana Grande and Mac Miller.
I mean it was only last weekend the two were seen making out at a sushi restaurant in Encino, CA. (Nothing more romantic than raw fish wrapped in seaweed!)
And now, mere days later, they're already getting tatted together.
TMZ reports both Ariana and Mac were seen leaving famous tattoo parlor Shamrock Social Club in West Hollywood on Thursday.
The couple left with some fresh ink on their skin, so I guess this means their relationship is tattoo serious.
They're not quite at matching tattoo or name tattoo levels though.
Ariana showed her two new ones off on her Snapchat: one of the letter "A" and one of the Venus symbol.
Mac opted for a nice circular picture of the horizon on his hand for his ink.
OK, so at least they aren't getting MATCHING tattoos.
But still, clearly Ariana and Mac are at a point where they feel comfortable being repeatedly stabbed by a needle in front of each other.
I think that says a lot.
Citations: ARIANA GRANDE I'M SO INTO YOUR NEW TATTOO (TMZ)