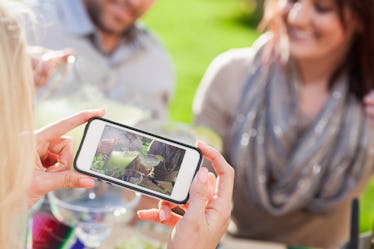 9 Instagram Captions For You & Your Partner's Cinco De Mayo Celebration Pic
With St. Patrick's Day behind us, it's time for another booze-filled take on a holiday whose cultural significance is lost on most of us. I'm not Mexican (or Irish, for that matter) so I'm including myself here. I've already started brainstorming Cinco de Mayo Instagram captions to pair with staged photos of my margaritas taken in portrait mode and, admittedly, none of them have anything to with the Battle of Puebla. So before I get into those, I thought I'd learn a little about the holiday first.
Contrary to popular belief, Cinco de Mayo is not the celebration of Mexican independence. That holiday actually takes place on Sept. 16! Instead, Cinco de Mayo commemorates the Mexican army's victory over the French Empire when they invaded Mexico City in 1862 — also known as the Battle of Puebla. The Mexican army was much smaller than the French army, making Mexico's unlikely victory historically significant. Today, Cinco de Mayo parades and reenactments of the Battle fill the streets of Mexico on this day each year.
Elsewhere, like in the U.S., many people use this day to celebrate Mexican culture, food, and music and there's no harm in that — as long as you do it respectfully. You and your partner shouldn't pose in sombreros or fake mustaches to get in the spirit, because that's culturally insensitive. But you can try an authentic Mexican restaurant in your neighborhood, make your own margaritas, and listen to your favorite songs by Selena Quintanilla. Snap a photo of your celebrations and pair it with any one of these festive captions on Instagram.