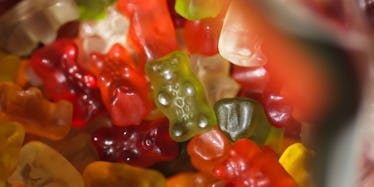 Tequila-Infused Gummies Exist And They'll Satisfy Your Sweet Tooth
Shutterstock
Are you known to indulge in purchases from the local candy store? Find yourself fancying a fruity margarita with a pinch of salt? If you're experiencing both of these cravings, Sugarfina is here to make sure that you that you get the best of both worlds.
From the California company who brought us the rosé-infused gummies that sold out in two hours (yep, only two) and the green juice gummies that make cleansing all the more tolerable (and adorable) comes tequila-infused gummies — right in time for the summer.
The luxury candy boutique kicks off its new product in partnership with George Clooney's tequila brand, Casamigos. The dynamic duo brings us Blanco, Reposado, and Añejo-infused treats, so thank you Sugarfina and George. We owe you one!
There is certainly no reason not to snag yourself a box of these babies. They're cute, tasty, and beneficial — yes, beneficial.
Don't believe me? Well a new study claims a sweetener that's created from the plant used for tequila could lower blood glucose levels for those with diabetes and help them lose weight. Look how useful those agave plants are!
If you need extra convincing (though I'm sure nothing will hold any of us back from making a Sugarfina tequila gummies purchase) the alcohol can also help your bone health and increase magnesium absorption, according to an article from the New York Post. So this is like the adult version of a glass of milk, I guess?
Gummies are certainly not the only treat to add a dash of alcohol nowadays.
If you find yourself in New York City, have a cone at Tipsy Scoop, the liquor-infused ice cream that has the city craving sundaes like its never had before. If you're not near the Big Apple, get a pint of Tipsy Scoop online so you can be the talk of the BBQ.
Don't forget the Negroni-flavored desserts or the booze-infused doughnuts.
Happy snacking and be safe.
Citations: Tequila-infused gummies have arrived just in time for margarita season (HelloGiggles)