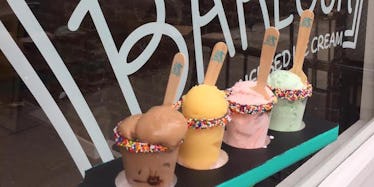 This New Ice Cream Shop Will Get You Chocolate Wasted Off Boozy Flavors
Tipsy Scoop
Not quite sure whether you should hit the bar or the ice cream parlor on Friday night?
A New York City ice cream barlour named Tipsy Scoop has alleviated the tough decision and packed both creamy and boozy treats into one delightful experience.
What began as a family tradition many moons ago took quite an innovative turn when Melissa Tavss came into the picture.
Though Tavss' great, great, great grandfather got the wheels turning and began selling ice cream in Europe, she was the one who took things up a notch and experimented with liquor and ice cream generations later.
Thus, Tipsy Scoop and its liquor-infused ice cream were born.
"It creates a different dessert experience," the clever founder told Elite Daily.
Naturally, it's one we're completely ready to try.
On May 7, the shop officially opened on E. 26th Street and experienced two to three hour-long lines all day, and naturally, a social media frenzy.
The company has actually been around for about three years now, however, the treats were only available to cater or to purchase in specialty stores.
But after word go out on (where else?) social media, the desserts became more and more in demand... so much that hungry customers began showing up to the company's production facility in Harlem, thinking it was a store.
After people traveled great lengths only to discover there wasn't an ice cream shop, Tavss thought a store that was "easier to find and more centrally located" was in order.
Now, we're all reaping the boozy benefits.
"We're really excited to offer people a place where they can try a bunch of our flavors and they're not limited to just buying a pint," Tavss said.
Speaking of which, there is a lot to look forward to when it comes to flavors.
"We're doing limited-edition flavors each month with liquor brands," Tavss told Elite Daily.
Count us in!
This month Tipsy Scoop is partnering with Patrón for a margarita flavor (yum!).
In June, customers can expect a partnership with Aperol for a non-traditional ice cream sandwich with two orange whoopie pies.
"It's very Instagramable and cool," Tavss said (it's like she knows us).
 And July's pick? Frosé Rosé!
Looks like we found our new go-to spot! If you're not in New York, get your boozy fix here.
Citations: A Boozy Ice Cream Shop Exists, and Its Flavors Will Get You Buzzed (Cosmopolitan)