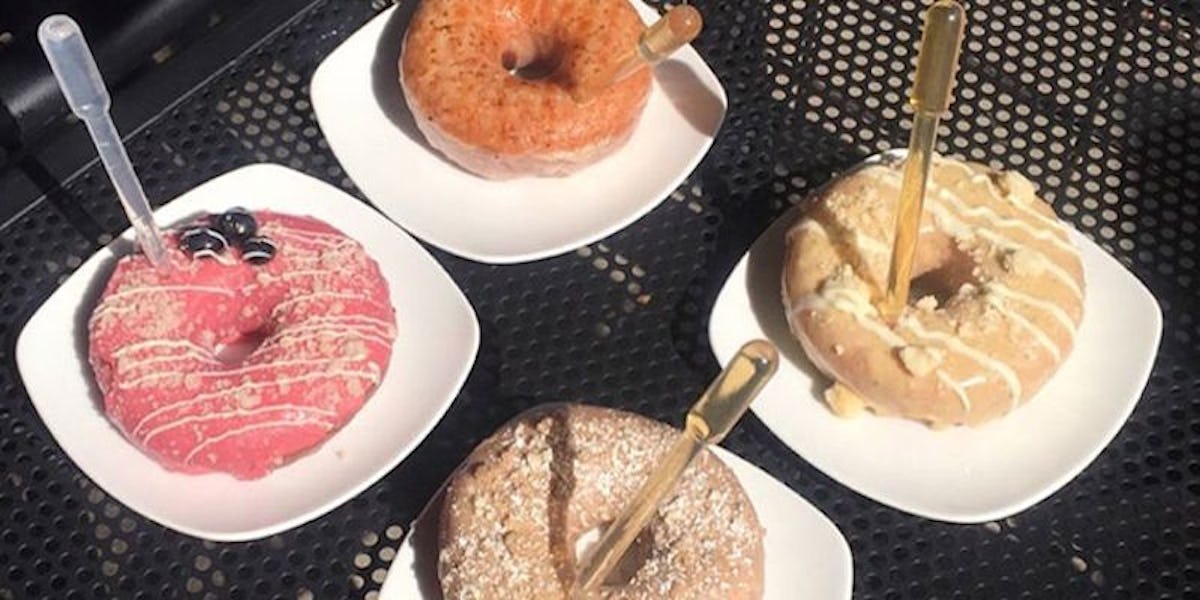 There Are Now Booze-Infused Doughnuts So You Can Get Drunk Off Dessert
Everyone knows Denver is the perfect place to score some green at all the marijuana dispensaries.
But did you know this Colorado hipster haven is also home to some sweet spots that will get you higher than a kite on sugar and drunk at the same time?
That's right, if you're favorite vices happen to include drinking and desserts, you might want to pay attention because there's a glorious place that will support all of your bad habits.
Last weekend, I was walking around Denver when I stumbled upon an epic doughnut shop that will seriously change your life.
Allow me to introduce you to Habit Doughnut Dispensary.
Unlike those boring, normal doughnut shops, Habit Doughnut Dispensary makes all sorts of insanely delicious doughnuts that come with an optional shot of booze.
That's right, whiskey-filled doughnuts are now a real thing...
And the shot gets injected into the doughnut after it's been baked...
...so you can actually get buzzed from these bad boys.
They have all sorts of insanely delicious flavors...
That range from Earl Grey doughnuts loaded with Honey Jack...
...to drunken French toast doughnuts that make the perfect boozy breakfast snack.
You can work on your blackout with some bourbon-filled brioche doughnuts...
Jazz up your plain Jane donut with a syringe full of Fireball...
...or get shit-faced by demolishing a box of drunken doughnut holes.
If whiskey isn't your jam, don't worry. They also have doughnuts filled with Baileys...
Raspberry glazed doughnuts injected with vodka...
...and some rum-infused doughnuts that do not disappoint.
Seriously, this might just be the best damn thing that's ever happened to desserts.