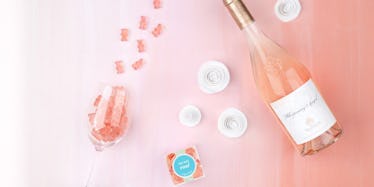 These Rosé Gummy Bears Sold Out In 2 Hours Because We're All Secretly Basic
Sugarfina
Everyone knows rosé is the unofficial drink of summer. But you know what's even better than sipping on a glass of your beloved, blushing booze?
Stuffing your face with a bunch of candy that tastes like rosé, of course!
That's right. Luxury candy boutique Sugarfina just answered all of our basic prayers by creating what might just be the best candy of all time: Rosé gummy bears. This is not a drill.
These "Rosé All Day Bears" are now a real thing, and they taste like a non-alcoholic version of your favorite summer sips. Considering the fact that the candies are infused with Whispering Angel Rosé, they definitely sound delicious AF.
They also have "Yes Way Rosé" candies, which are rosé-infused gummies that ditch the bear shape for some lovely, pink rosettes.
But before you throw on a Juicy tracksuit and frantically run out the door in search of this coveted candy, you should probably know these boozy bears might be pretty hard to get your hands on because they sold out online in just two hours. Talk about bad news bears.
However, Sugarfina will be rolling out more bears next week, so you can get on the waitlist and try some of the company'ss other booze-infused candies in the meantime.
Check out the pictures below for a closer look at these awesome gummy bears.
If you love rosé just as much as the next basic bitch, you might want to brace yourself.
Luxury candy boutique Sugarfina just made all of our basic dreams come true by creating gummies infused with Whispering Angel Rosé.
These glorious, non-alcoholic gummies come in two different options, including "Rosé All Day" gummy bears and "Yes Way Rosé" rose-shaped gummies.
These bad boys are going for $8.50 per box or $34 per pound and are set to hit Sugarfina's Madison Avenue store on June 30. However, snagging a box of these coveted candies might not be as easy as it sounds.
Unfortunately, Sugarfina reported that both the "Rosé All Day" and "Yes Way Rosé" gummies sold out online within a mere two hours.
Luckily, Sugarfina will be releasing more candy in the coming weeks, so you can score a spot on the waitlist by emailing the company.
And if you're down to try some other tipsy treats in the meantime...
...you can pair your bubbles with other boozy bears.
Sugarfina also has Dom Pérignon-infused Champagne Bears...
That taste like sparkling brut and rosé...
Along with some adorable boxes of bubbly bears...
Some precious peach Bellini gummies...
...and some sugar coated Champagne Bubbles that are guaranteed to hold you over until the next batch of Rosé Bears rolls out.
Citations: Rosé-Flavored Gummy Bears Are Here Just In Time For Summer (Refinery29)