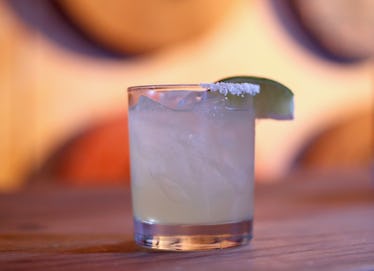 There's Apparently A Global Tequila Shortage & People Are Freaking Out
Joe Scarnici/Getty Images Entertainment/Getty Images
Sorry to be the bearer of bad news, people, but plans of spending your summers beachside with a margarita might be in jeopardy. The world's liquor people most love to hate is in trouble, and these panicked tweets about the tequila shortage prove that we need to make a liquor store run like, yesterday. After all, it's five o'clock somewhere, right?
Increased customer demand and high agave prices have left tequila makers and distributors at a loss of how to address the shortage issue, Travel + Leisure reports. According to Reuters, prices in agave have soared six-fold over the past two years alone, leaving both small and large tequila producers in a bind.
The increased demand for the agave liquor could be attributed to the drink's rising popularity among the public as well as its evolution as a beverage all on its own. On May 21, 2015 Forbes reported that many view tequila now as a solo drink, or "sipper," rather than just a mixer for margaritas. Bill Norris, Alamo Drafthouse Cinema beverage director, spoke to Forbes about tequila's newfound stardom.
"There's a much greater recognition that tequila can be a sipper, not just a shooter or dropped in a margarita," Norris told Forbes. "People see it alongside single-malt Scotch."
So whether you like to drink it all natural or with with some margarita mix thrown in, there's no arguing that we need tequila in this world.
Gauging from these devastating tweets, I'd say the internet agrees.
As a plant-based spirit, tequila can't compare to grain-based liquors like vodka and whiskey, which are much easier to produce. Agave, a key ingredient in tequila, is a plant that takes seven to eight years to fully reach maturity. Due to the high demand and lack of access to matured agave, producers have had to use younger plants to produce the liquor. While this may work short-term, it means bad news for future hopes of tequila production. According to Forbes, this shortage is expected to last into 2021. In fact, as of 2011 none of the 17.7 million blue agave plants were ready to harvest.
I don't know about you, but I'm not sure how I'm going to last the next three years of Donald Trump's presidency without tequila.
On May 15, 2015 The Atlantic reported that the United States is tequila's biggest market, which makes up 80 percent of its exports. Tequila's demand can certainly be attributed to its popularity among younger audiences, particularly college crowds. However, the demand for less than stellar tequila has led producers to fight for their product, particularly from smaller businesses. In response to create the best quality tequila, The Tequila Interchange Project, an organization of bartenders and scientists who study both tequila and the agave plant, was created. Their mission? To maintain the integrity of agave by keeping true to its Mexican culture and heritage, and, of course, to produce the best quality tequila possible.
Not all heroes wear capes.
While this tequila shortage will certainly impact homecoming dances and football tailgates, it's really the tequila producers that will take the hit. Smaller producers will take the hit the hardest, and even larger companies such as Cuervo, Sauza, and Patron are feeling the heat at the lack of access to their products.
Raul Garcia, President of the National Committee for Agave Production in Tequila, has spoken up about the impact this shortage will have on all producers. "We are sure this will have a strong impact on the big firms such as Cuervo or Sauza," Garcia told Reuters. "We don't see that the problem will be resolved soon, and that's what worries us."
You heard the man, it's time to stock up people.
I'll see y'all in line.