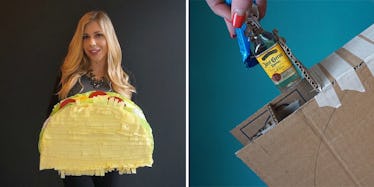 Here's How To Make A DIY Taco Piñata Filled With Booze For Cinco De Mayo
Kylah Benes-Trapp
If there's one thing you should know about me by now, it's that I'm seriously obsessed with tacos.
In fact, I like to consider myself as somewhat of a taco connoisseur.
After all, I did complete an epic six-day taco diet back in the fall.
Yep, these tortilla-wrapped treats occupy a truly special place in my heart and I'm pretty sure I've had more feelings for a plate of my beloved baja fish tacos than some of my past boyfriends.
If there's one thing I love just as much as stuffing my face with a pile of al pastor tacos, it's getting drunk and doing arts and crafts.
Because let's face it, there's nothing better than sipping on a stiff margarita while you embrace you inner Martha Stewart and conquer all sorts of awesome DIY projects.
Yeah, I know, I'm going to make one hell of a housewife some day.
If you happen to share my strange affinity for booze, tacos and paper crafts, you might want to pour yourself a drink, grab a pair of scissors and pay attention.
I recently stumbled across a "do it yourself" project for Cinco de Mayo that celebrates my all time favorite Mexican snack: a giant taco piñata.
Yep, everyone knows it's not a real Cinco de Mayo fiesta until you mercilessly beat the crap out of an innocent papier-mâché piñata.
But you know what's even better than swinging at a taco-shaped piñata that makes candy rain from the sky?
Turning up with a festive party favor that rewards your stick-beating abilities with booze, of course!
That's right. This badass DIY taco piñata is filled to the brim with tipsy treats, and it's sure to be a crowd-pleaser at your Cinco de Mayo celebrations.
Check out the pictures below to see how this epic party favor is made.
Step 1: Gather your supplies. You'll need some cardboard, tissue paper (yellow, green, brown and white), card stock (yellow and red), masking tape, a hot glue gun, scissors and most importantly...
...lots of candy and mini bottles of booze!
Step 2: Take your cardboard and cut out two half circles, as well as two long strips that are 2-3 inches in width.
Step 3: Tape one strip to the inside of one of your half circles, make sure it's about 2 inches in from the edge. Poke a hole in the middle of the cardboard strip for your string and secure it on the inside of the piñata with tape. Then place your other circle on top and tape it to the strip in the same manner. Take your remaining strip and tape it to the bottom of the taco.
Don't forget to fill your piñata up with candy and booze before completely sealing the bottom!
Step 4: Cut the yellow tissue paper into long strips that are 1 inch in width, then use a scissor to fringe the edge of each strip.
Step 5: Glue the strips to your piñata, start at the bottom and slightly overlap each strip as you go up. Trim any excess tissue paper on the edges of the piñata.
It should look like this when it's done.
Step 6: For the taco filling, glue strips of green tissue paper to the inside edges of your taco. Then take crumpled pieces of brown and white tissue paper and glue them to the entire inside of the piñata. Glue the end of a strip of yellow card stock to the inside edge of the piñata, and twist the paper before gluing down the other side. Then simply glue a few red card stock circles to the inside edges of the piñata, and you're good to go!
You now have an epic taco-shaped adult piñata...
...that will rain down tequila and candy when you bust this bad boy open.
Happy Cinco de Mayo!