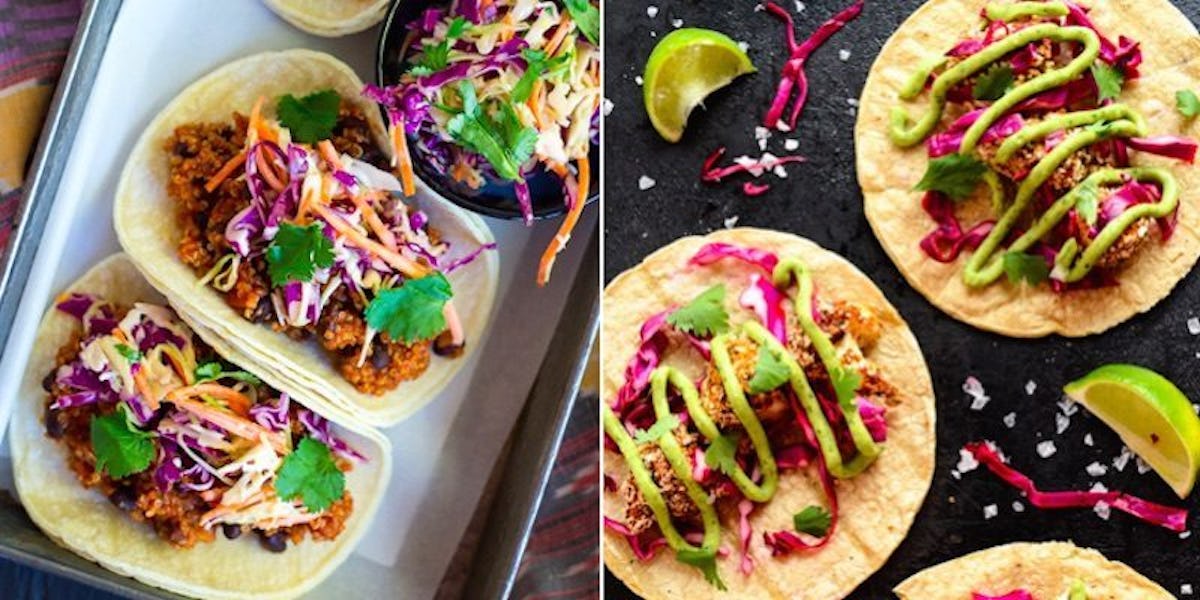 20 Healthy Taco Recipes That Are Guaranteed To Be A Fiesta In Your Mouth
If you ask me, tacos are probably one of the greatest foods ever invented.
Aside from being tasty AF, these tortilla-wrapped treats are super versatile and relatively inexpensive.
Not to mention, Taco Tuesday is basically the only thing that gets me through the first day of each week.
If you also happen to be a taco fanatic, there's a good chance you're gearing up for the most glorious taco-eating event of the year: Cinco de Mayo.
Yep, Cinco de Mayo serves as the perfect excuse to get sh*t faced and stuff your face with every type of taco known to mankind.
But if your idea of a balanced diet is a taco in each hand, I have some bad news for you.
Between all that cheese, guac, sour cream and fatty meats, the calories in some taco fillings can really sneak up on you if you're not careful.
But before you decide to throw on some stretchy pants and eat your heart out, you should know you can still get in on the taco-eating action without sabotaging your diet.
From veggie-loaded tacos and vegan substitutes to skinny renditions of your favorite spicy snacks, there are all sorts of ways you can lighten up your beloved tacos.
We set out to find a bunch of healthy taco recipes so you can celebrate Cinco de Mayo without breaking the scale.
Take a look at the pictures below to see these mouthwatering taco recipes.
BBQ Cauliflower and Chickpea Tacos with Creamy Lime Slaw
Raw Korean BBQ Tacos
BBQ Black Bean and Quinoa Tacos
Honey Lime Sweet Potato Black Bean and Corn Tacos
Paleo Bang Bang Shrimp Tacos
Crispy Cauliflower Tacos
Vegan Eggplant Asparagus and Black Bean Tacos
Harissa Portobello Mushroom Tacos
Vegan Lentil Tacos
Baked Bell Pepper Tacos
Spicy Salmon Tacos with Avocado Lime Dressing
Paleo Short Rib Tacos
Bahn Mi Chicken Tacos
Pan-Seared Scallop Tacos with Meyer Lemon Cilantro Aioli
Skinny Fish Tacos with Cilantro Lime Crema
Loaded Tofu Tacos
Turkey Taco Lettuce Wraps
Buffalo Tempeh Tacos
Zucchini Taco Boats
Skinny Baja Chicken Tacos