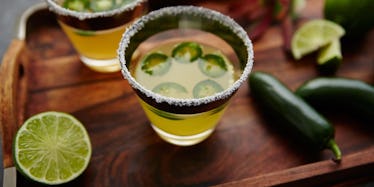 15 Healthy Margarita Recipes For Cinco De Mayo That Won't Ruin Your Diet
Trying to eat healthfully on Cinco de Mayo can be a daunting task.
Between all of the cheesy gauc-topped goodies and boozy south-of-the-border sips, there are all sorts of festive, not to mention, fattening Cinco de Mayo treats that totally wreak havoc on your waistline.
Plus, it can take some serious willpower to resist the urge to knock back 10 shots of tequila, black out and eat half of your body weight in burritos.
Earlier in the week, I showed you a bunch of awesome recipes that turn your beloved tacos into a diet-friendly Cinco de Mayo dish.
But, everyone knows it's not a real fiesta unless you have a margarita (or seven) to wash down all those spicy celebratory snacks, am I right?
Just like most of your favorite Mexican meals, margaritas also tend to have a lot of sneaky calories lurking inside their inconspicuous frosty facades.
But don't worry, it turns out you can still turn up for the occasion without totally sabotaging your diet.
You just have to put on your thinking sombrero and come up with some alternative recipes that ditch the sugary mixers for some healthy substitutes.
Whether you're looking for a low-calorie, classic margarita or a lighter version of your beloved flavored sips, there are all sorts of skinny margaritas out there that cut out sugar without compromising on taste (or more importantly, the amount of booze inside these bad boys).
So, I set out to find a bunch of insanely tasty margarita recipes that are so damn good, you'll forget you're even trying to be healthy in the first place.
Check out the pictures below to see some skinny versions of your favorite Cinco de Mayo sips.
Low Cal Margarita
Paleo Blueberry Jalapeño Margarita
Strawberry Mint Margarita
Skinny Cucumber Margarita
Skinny Blood Orange Pomegranate Margarita
Aloe Vera Margarita
Skinny Raspberry Margarita
Skinny Beer-Garita
Fresh Lime and Jalapeño Margarita
Skinny Frozen Margarita
Skinny Fresh Watermelon Margarita
Skinny Champagne Margarita
Fizzy Grapefruit Margarita
Paleo Coconut Lime Margarita
Skinny Strawberry Jalapeño Margarita