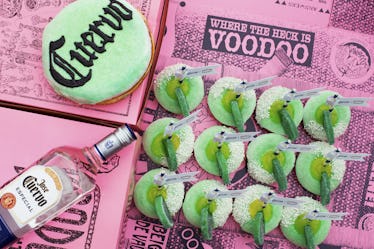 Tequila-Infused Doughnuts Are Here, Just In Time For National Margarita Day
If you're feeling particularly thirsty this Thursday, there might be good reason for that. It turns out that Thursday, Feb. 22 is National Margarita Day, but I wouldn't settle for celebrating with a regular old happy hour margarita just yet. One company famous for its breakfast confections is celebrating the day with a twist on an old favorite. Once you find out where to get tequila-infused doughnuts on National Margarita Day, you'll be glad you opted for this uniquely delicious treat.
You might usually think of Voodoo Doughnut when you're craving a sweet start to your day — but, according to a press release, the Portland-based doughnut shop has teamed up with Jose Cuervo to create the boozy doughnut you never knew you needed. In fact, they've cooked up three tequila-infused doughnut creations, and you can try one for yourself at their Portland and Eugene locations in Oregon. You can also snag the limited-time sweet treat at their Denver, Colorado and Austin, Texas Voodoo Doughnut locations (The tequila-infused doughnuts are not available the Universal Studios CityWalk Hollywood location).
Even better news for tequila fans with an ever-nagging sweet tooth is that you can score one free tequila-infused doughnut from the above Voodoo Doughnut locations on Thursday, Feb. 22, 2018 while supplies last. A free tequila doughnut?! It's beginning to sound like it's also "National Amazing Deal Day." (OK, that's not a real thing, but c'mon, this is almost too good to be true!)
Now that you know this delicious and boozy confection exists, you're probably wondering what you're going to get if you're lucky enough to snag this deal. Well, the Jose Cuervo x Voodoo doughnuts are strict adherents to the theme of the day, and they are inspired by the three key ingredients of a margarita: lime, salt, and tequila (duh!). The first doughnut channels the flavors of a refreshing margarita with a Jose Cuervo-infused lemon jelly (in which the tequila is cooked out leaving behind "earthy, sweet notes"), vanilla frosting that is topped with lime dust, and some white sprinkles that are the perfect nod to a salt-rimmed margarita.
You can think of the other two doughnut options as Voodoo Doughnut's version of a jumbo margarita. Why? Well, because they're simply ginormous. These hand-frosted margarita-inspired confections measure out to the same size as six regular glazed doughnuts. OK, that's definitely a lot of marg-doughnut action, but don't be intimidated by these super-sized cake doughnuts or else you'll totally miss out on some tequila-infused greatness. Voodoo Doughnut explains in the press release that these hand-frosted doughnuts will give tequila lovers the "ultimate indulgence." I'll raise a glass (er, doughnut) to that.
Remember that the free doughnut deal on Feb. 22 is only good for one doughnut per person, so I suggest grabbing your bestie and hitting up Voodoo Doughnut for the tastiest happy hour yet. If these tequila-infused doughnuts sound like the perfect indulgence (and let's be honest, they totally do), but you can't make it to the shop today, don't worry — the Jose Cuervo specialty doughnuts will be available for purchase at Voodoo Doughnut for $2.50 on Friday, Feb. 23 and Saturday, Feb. 24.
If you're familiar with the company at all, then you're probably not too surprised that Voodoo Doughnut is behind this outside-of-the-box celebration of National Margarita Day. Voodoo Doughnut first jumped on the Portland food scene in 2003, and the doughnut shop quickly gained notoriety for their Bacon Maple Bar doughnut that combines the sweet and salty flavors of (you guessed it) maple and bacon.
It's clear that the owners, Kenneth "Cat Daddy" Pogson and Tres Shannon, aren't afraid of a quirky flavor combination, and it's that fearless foray into unique flavored doughnuts that has brought you this Jose Cuervo and Voodoo Doughnut pairing. So, enjoy the sweet result of their flavor experimentation and toast your pals with a tequila-infused doughnut on National Margarita Day. Cheers!