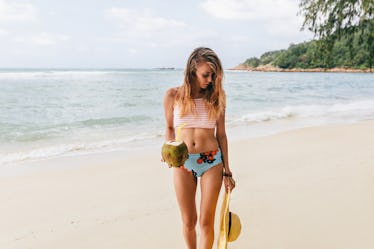 37 Tropical Instagram Captions For Your Sweet Piña Colada Pics On The Sand
There are some moments that instantly make you feel so at peace. There's that feeling you get when hitting up the beach with your besties, and it's really unlike anything in the world. When you're on the beach, catching countless rays of sun with the sand between your toes, the day comes full-circle once you have your favorite beach drink in hand. With the breeze coming off the water and the taste of sweet fruit in your drink, you can't tell me you're not feeling more relaxed already. If you find yourself sipping a piña colada on the beach anytime soon, you know what to do: snap some pics so you can flashback to that moment anytime your heart desires. And of course, you'll need some Instagram captions for piña colada pics, too.
Along with tasting really spectacular, beach drinks like piña coladas make the best picture props. They'll instantly transport all of your followers to the ocean, too. And here's a secret — you'll look way more relaxed in your plandid when you're holding a prop (especially if that prop happens to be a piña colada, 21-and-over peeps).
The next time you're on the beach, keep channeling those chill vibes. These Instagram captions are the perfect pair for your sunny pics starring piña coladas.
1. "Beach bum blvd." — Unknown
2. "Happy as a clam." — Unknown
3. "You are the piña to my colada." — Unknown
4. "The lower the latitude the better the attitude." — Unknown
5. "Salty but sweet." — Unknown
6. "Girls just wanna have sun." — Unknown
7. "A pineapple a day keeps the worries away." — Unknown
8. "You had me at aloha." — Unknown
9. "High tide or low tide, I'll be by your side." — Unknown
10. "Today's forecast: beach, with a chance of drinking." — Unknown
11. "Feeling tropical." — Unknown
12. "It's all about palm trees and 80 degrees." — Unknown
13. "As endless as the ocean, as timeless as the tides." — Unknown
14. "Passports and pineapples." — Unknown
15. "Life is better by the beach." — Unknown
16. "We run this beach." — Unknown
17. "You drive me coconuts." — Unknown
18. "I love you to the beach and back." — Unknown
19. "Be a pineapple: stand tall, wear a crown, and be sweet on the inside." — Unknown
20. "See you on the next wave." — Unknown
21. "This is my happy place." — Unknown
22. "Sandy toes, sun-kissed nose." — Unknown
23. "I could never in a hundred summers get tired of this." — Susan Branch
24. "You are the pineapple of my eye." — Unknown
25. "As free as the ocean." — Unknown
26. "I'm a better person when I'm drinking pińa coladas." — Unknown
27. "If you like piña coladas, and getting caught in the rain..." — Rupert Holmes
28. "I'm in a good place right now. I'm on the beach." — Unknown
29. "Find me under the palms." — Unknown
30. "May all your days be filled with umbrella drinks." — Unknown
31. "When life hands you pineapples, make piña coladas." — Unknown
32. "It can't all be sunshine and piña coladas... but it is right now." — Unknown
33. "Toes in sand, drink in hand." — Unknown
34. "Being a beach lover is one of the things I got right." — Unknown
35. "Live in the sunshine. Swim in the sea. Drink the wild air." — Ralph Waldo Emerson
36. "An ocean breeze puts a mind at ease." — Unknown
37. "Go where the wifi is weak and the rum is strong." — Unknown