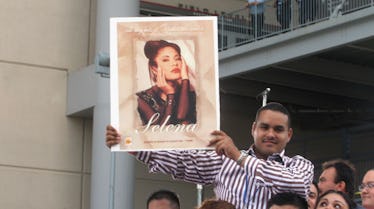 Selena Quintanilla's Legacy Will Live On In A New TV Drama Series On ABC
Jana Birchum/Getty Images Entertainment/Getty Images
It's always a major win when main TV networks take a huge step toward producing more diverse content, and ABC has done just that. The network has given the go-ahead for a new family drama featuring Latinos, but with an amazing angle. ABC will partner with Campanario Entertainment and SB Projects for an untitled Selena Quintanilla TV series, using the late singer's life as inspiration for the plot. Selena's family has also co-signed on the project, showing their support from the start.
Known as the Queen of Tejano music, Selena rose to fame in the 1990s after her Latin songs found unprecedented success and helped the genre reach a more mainstream audience. She was shot and killed in March 1995 at the age of 23, but her light has never dimmed since. Her 1995 album "Dreaming of You" was released after her death but was an instant success, reaching the Billboard 200 chart. Jennifer Lopez played her in the biographical 1997 movie Selena, and the singer recently received a star posthumously on the Hollywood Walk of Fame. She has continued to be an icon for Latina girls, and a new generation will definitely learn of her story through this upcoming series.
Suzette Quintanilla Arriaga, Selena's sister, spoke of her excitement about the show in a statement:
We are excited to come on board as producers on an ABC music driven, Latino family drama that celebrates Selena's musical legacy with a lead character whose music and career is inspired by Selena.
The drama's basic storyline has already been revealed, introducing the successful pop star character Alex Guerra. Despite her award-winning music, Alex has long been estranged from her family, and when she must return to her home in Texas, she must try to improve relations with them as their deepest secret is slowly becoming public and her career demands more of her. Keep calm, but there's also a promise of a love triangle. Sign me up!
Miguel Nolla, a writer and producer on Scandal, will write the pilot, while musician manager Scooter Braun (aka the guy who has had to look after Justin Bieber all these years) will serve as executive producer. Quintanilla Arriaga and Selena's father Abraham Quintanilla Jr. will join as co-producers.
Understandably, the news of the series has divided the Internet, particularly those with similar backgrounds or experiences as Selena. Although some are disappointed that the show won't be an actual account of Selena's life, others are thrilled about the chance for more representation.
The naysayers also have valid points. This deal with ABC follows Quintanilla Jr.'s 2016 lawsuit against Selena's widower Chris Perez and production company Endemol Shine Latino. Perez was developing a TV series based on his unauthorized memoir To Selena With Love with the company. The debacle between him and Quintanilla Jr. emerged from Perez violating an Estate Properties Agreement contract he agreed to after his wife died. The contract ruled that her father owned Selena's name, voice, and basically anything to do with her. Perez had hoped to create a biographical series for both English and Spanish-speaking fans, saying in a statement announcing it:
To Selena With Love allowed me to finally embrace my experience and understand the void it could fill in the hearts of so many others. I am now ready to take the important step of being fully transparent and bringing my everlasting relationship to life on the screen.
Selena's family working with ABC so soon after the lawsuit seems to definitely have angered some fans.
Maybe news of the series's casting would change some skeptics' minds. No involved actors have been announced yet, but I'm rooting for a young unknown to score the Selena-inspired role. Campanario Entertainment is also eager for the chance to explore such real characters, with president Jaime Davila saying:
This project gives us all an opportunity to showcase a successful, aspirational Latino family in a way that is not currently represented on television. [We] are looking forward to creating with the team an original music-driven drama with authentic characters as multifaceted as our own families.
I'll keep my eyes peeled for updates on this show!