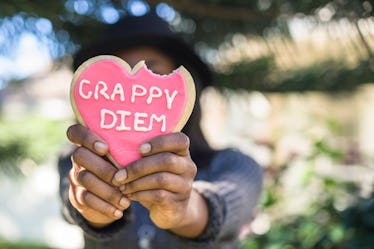 8 Valentine's Day 2019 Memes To Send Your Single Friends Because They're So Relatable
If you and the crew are more single than a sock behind the dryer, a stud earring at the bottom of a suitcase, or $1 flip-flop on a stormy beach day, you're probably in need some of Valentine's Day 2019 memes to send your single friends. Being a can of single Pringles on Valentine's Day can go one of two ways. You can either crack the most savage jokes and be as Anti-Valentine's Day as possible — complete with black lipstick and hot exes on speed dial. Or, you can lay on the self-love this Valentine's Day.
The best way to do that with the homies is throwing a Galentine's Day. A wholesome alternative to Singles Awareness Day, the tradition of celebrating Galentine's Day comes from a 2010 Parks and Recreation episode. And there are loads of ways to celebrate: You can gather the girls up for karaoke, baking, a spa day, or literally just a good old-fashioned sleepover. And your friends deserve the appreciation, d*mn it, because they've held you down through thick and thin.
But until then, forget those mushy, gushy love feelings. These memes will help keep the flame alive... As you roast each other for being single, that is.