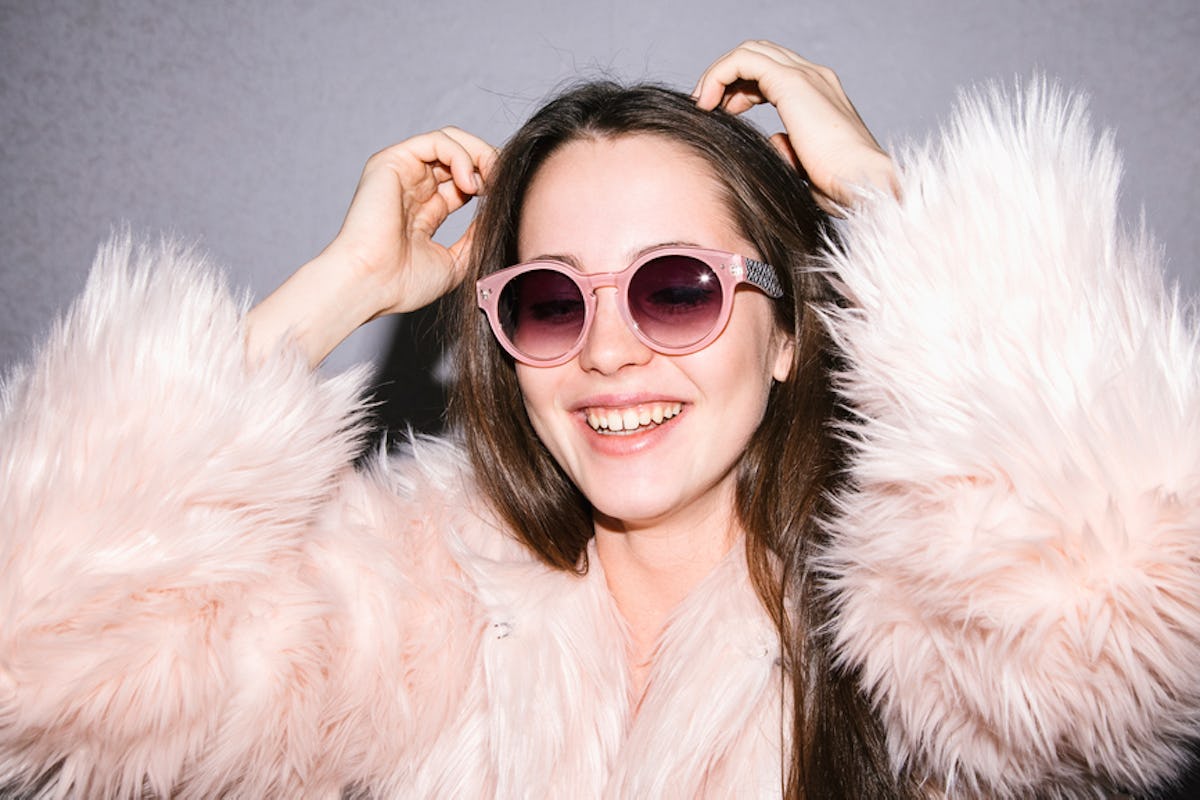 25 "Singles Awareness Day" Instagram Captions To Prove You DGAF About Valentine's Day
Valentine's Day is a day for couples who love... to show off their relationship status. Come Feb. 14, your social media feeds suddenly start to feel like a personal attack on your single status. How is it that even your friends who were single, like, 24 hours ago seem to suddenly have serious SOs plastered all over their Facebook? You could let it get to you, or you could fight through the couple-clutter with Singles Awareness Day Instagram captions that prove you DGAF about cupid's crossfire.
And why should you sulk about being single? Not only do you have potentially boundless freedom, romantically and otherwise, but you have real time to self-reflect and constantly evolve as a person. Celebrating your love for yourself should be a no-brainer, but sharing it with your social followers might seem a bit more intimidating. However, don't let that stop your self-love parade...
There's a fine line between coming across as spiteful and showing the world that you are thriving in your single status. The perfect, confident selfie (in killer lighting) paired with a well-thought-out, witty, and wise (but not wise-cracking) caption can help you express to the world that nothing is ruining your mood this Valentine's Day.
1. "[Boys/Girls] are like a box of 🍫. I've bitten a ton of them and still haven't found a decent filling." — Unknown
2. "I'm not single. I'm in a long-term relationship with action, adventure, and fun." — Unknown
3. "Yes, I'm alone, but I'm alone and free." — Frozen
4. "Me, myself, and I are very happy together. 😄😀😊" — Unknown
5. "Too many women throw themselves into romance because they're afraid of being single, then start making compromises and losing their identity. I won't do that. 🙅" — Julie Delpy
6. "Being single helps save trees today. 🌳#HallmarkHoliday" — Unknown
7. "Today might be S.A.D. (Singles Awareness Day), but tomorrow is discount chocolate day." — Unknown
8. "Some people are settling down, some people are settling, and some people refuse to settle for anything less than butterflies." — Sex and the City
9. "I think, therefore, I'm single." — Lizz Winstead
10. "Roses are red, violets are blue, vodka costs less than dinner for two." — Unknown
11. "Loving yourself means never having to compromise on which Netflix show to watch. 💁" — Unknown
12. "We are becoming the men we wanted to marry." — Gloria Steinem
13. "Being single means I didn't have to guilt anyone into taking me to dinner to celebrate a fake holiday tonight." — Unknown
14. "I'm single, and I'm sufficient." — New Girl
15. "If you think I'm sitting around feeling sorry for myself on Valentine's Day... wait, why are you thinking about me at all today? 😏" — Unknown
16. "Love is complicated, unlike my 🍕order tonight." — Unknown
17. "I don't need a man to rectify my existence. The most profound relationship we'll ever have is the one with ourselves." — Shirley MacLaine
18. "My 🍷 never makes me feel guilty for checking out other men. 👀" — Unknown
19. "I'm strong. I'm my own keeper, my own savior." — Jennifer Lopez
20. "You cannot find happiness by chasing after it. Happiness comes from doing what you love to do, and from being who you truly are." — Jonathan Lockwood Huie
21. "I think I'm the one. 🌹" — Unknown
22. "How wrong it is for a woman to expect the man to build the world she wants, rather than to create it herself." — Anais Nin
23. "Single |sin•gle| (adjective) – Too fabulous to settle." — Unknown
24. "Being single is getting over the illusion that there is somebody out there to complete you and taking charge of your own life." — Omkar Phatakc
25. "Single is an opportunity to live life on your terms and never apologize." — Unknown
Singles Awareness Day is technically Feb. 15, but there's never a wrong time to start letting the world know how much you appreciate you.
Check out the entire Gen Why series and other videos on Facebook and the Bustle app across Apple TV, Roku, and Amazon Fire TV.
Check out the "Best of Elite Daily" stream in the Bustle App for more stories just like this!