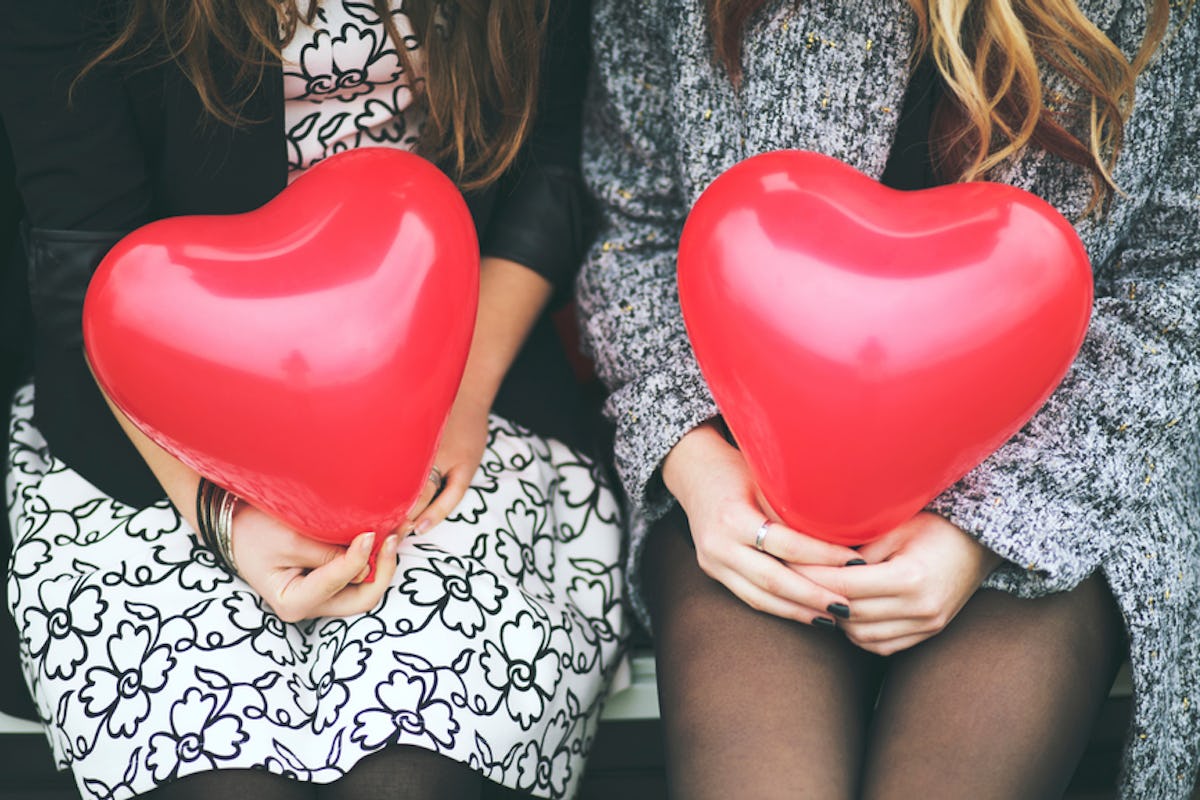 Can Friends Celebrate Valentine's Day? Duh, It's Called Galentine's Day
When I was little, the most exciting part about Valentine's Day was coming home to a bag full of my favorite chocolates, and a card signed "hugs and kisses, Mommy and Daddy." In school, I'd drop store-bought cards and candy-grams into decorative paper bags taped to my classmates' desks. Fast-forward to my college years, and I'd celebrate my single status with a group of girlfriends and a bottle of wine. I like to think it's because of these traditions that, to me, the holiday represents more than doodled hearts and drugstore candies. Friends can celebrate Valentines Day, too. Contrary to popular belief, and what all those Hallmark cards represent, the holiday is definitely not exclusive to couples in love and fancy dinner reservations. It's about showing affection to the VIPs in your life.
Until I met my husband, Valentine's Day wasn't even all that romantic. I can remember back in eighth grade, I was gifted a pink, stuffed animal frog from my exchange student boyfriend. A few years later, my high school boyfriend's sister was a waitress at Outback Steakhouse and reserved us a seat. During that dinner, he surprised me with a ring that I ended up losing a few weeks later.
As far as the whole "couples" aspect of the holiday goes, unless you're truly in love with the person and are totally cool with just grabbing a bite to eat and a cuddle sesh in front of Netflix if plans don't add up, V-Day is just an excuse for SOs to spend money in an attempt to "prove" how much they love each other. Personally, I think it would be more beneficial to save the cash and make an effort to show, rather than buy love more often, but I digress.
Celebrating Valentine's day with your girlfriends — aka Galentine's Day — is just as good as spending the night with a partner.
Sometimes celebrating holidays that are generally commercialized as couples-only is even better with your BFFs because it takes the unnecessary pressure off the night to, say, plan a fancy meal, find the perfect gift, and get all dolled up for a date that lasts maybe two to three hours at most. You don't have to dress to impress your gal pals; if anything, observing what is now known as Galentine's Day is the perfect excuse to get unready, throw on a pair of pajamas, and indulge in delicious takeout sans any jittery preparations.
If you're unfamiliar with the term (and if you are, seriously, where have you been?), Galentine's was originally a comedic ideal in a 2010 episode of NBC's Parks and Recreation. Long story short, the character of Leslie Knope (played by Amy Poehler) wanted to invent a way to celebrate the unbreakable bonds of female friendships, which led to her throwing annual grandiose festivities on Feb. 13 (aka Valentine's Day eve).
Naturally, this idea of celebrating platonic adoration for your squad members resonated IRL, inspiring ladies — both single and spoken for — to celebrate their best girls, which is something that, in my opinion, we should be putting into practice more than just once a year. Because, let's be honest, our friends are our foundation. Before dating and relationships, your girlfriends were your ride-or-dies, and that kind of alliance shouldn't be pushed to the wayside just because you now have a romantic partner to hold hands with. You have your person, but then you have your girls, and your girls are forever.
So, how should you show your squad you appreciate them this Galentine's Day?
So, here's the thing: Like any other date night, there are a few ways you can go about celebrating Galentine's Day to the fullest. How your festivities unfold will ultimately depend on how you and your girls enjoy spending time together.
If I were to plan a Galentine's Day soirée, for example, I would invite all my best girlfriends over for an epic evening heavily focused on a little R&R. The dress code would require the comfiest of pajamas, and either a pair of slippers or fuzzy socks. Sheet masks would be provided, as well as goodie bags full of Lush bath bombs, tea bags, an essential oil, and possibly a loofah, because why the hell not? The night would proceed with a rom-com marathon (because I'm cheesetastic that way), snacking on boxed chocolate, and sipping white wine.
You can never fail with comfy-casual hangs, but if you and your girls prefer wild nights out, plan something at your favorite spot and revel in the happiest of happy hours. Sure, it's nice to dress up for your SO, but I think it's even more fun to go full-on glam with your best friends, especially if you're pregaming with red solo cups and eye shadow palettes in front of the bathroom mirror.
However you decide to observe Galentine's Day, remember that, like Valentine's Day, the celebration should ultimately be a reminder of the relationships you've formed with these people. Spreading love to the ones you care about most shouldn't be reserved for a few hours each year. Take the initiative and invite your ladies out for a drink, or over to your place for coffee once in a while just to catch up. Every day is Galentine's Day, and it's all about appreciating the people in your life that have your back beyond Feb. 13.