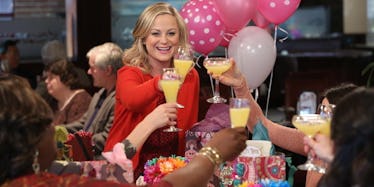 How To Ditch The Guys And Throw A DIY Galentine's Day Brunch
NBCUniversal Television
Leslie Knope's "Galentine's Day" celebration is everything. She and her "Parks And Recreation" ladies go out for brunch every February 13, and Leslie kills it with the gifts and the party of the century.
It's a no-boys-allowed day to recognize great friendships and do all the girly things you thought you wouldn't do anymore once you left middle school (but you still secretly love). This year, I've decided to throw my own Galentine's Day brunch in my apartment.
In the show, Leslie takes her girlfriends out. But if I'm going to get embarrassingly drunk on mimosas and eat more cookies than I should, I'd rather do it in the comfort of my own apartment.
It's not only for fans of the holiday. You can call it Single Awareness Day or take a note from Jessica Biel in the movie "Valentine's Day" and call it anti-Valentine's Day.
It's really just an excuse to drink at 11 am and call 15 cookies "breakfast." This is my definitive guide for throwing your girls a brunch party:
Decorations
Photo Booth
Make this as fancy or as simple as you want to. On Pinterest, I've seen everything from hanging bed sheets and taping heart-shaped paper plates to the wall to renting an actual photo booth.
But for my brunch party this year, I think I'm going to hang beaded strings (dollar store decorations, people) on a plain white wall and have some little accessories (obnoxious sunglasses, plastic hats, etc.) for people to take pictures with. Pictures in front of a cheesy wall like this tend to be very Insta-worthy.
Pink, Pink, Pink!
Raid your local dollar store. Party City and Target will have more options, of course, but I will always suggest starting your decor hunt at a dollar store.
I mean, there are even online stores that sell big bags of confetti for 65 cents. Confetti is the actual worst when it comes time to clean up, but it can make any coffee table look festive and it's so cheap.
Grab everything pink you can find, including mini throw pillows (seen at Target's dollar section), paper lanterns, cheap LED lights, pink-wrapped candy, heart-shaped picture frames and chip bowls, etc.
Less is more is usually the case with regular interior decorating, but I say go all out for something like this if you want your guests to talk about your party for weeks afterward. Go big, or why do it?
Moving Bulky Furniture
This may not be necessary if you're throwing your party in a large and open space, but if you're like me and are trying to squeeze a minimum of 10 women into your college apartment, you have to get your furniture out of the way.
If you have a four-chair kitchen table, I suggest pushing it all the way against a wall and putting those chairs against some other wall for seating. Use the table as a serving table, buffet style. Throw a decorative table cloth over it, and let your guests go nuts.
It'll be less awkward if everyone is sitting sporadically across the room, instead of having four people at the kitchen table and everyone else trying to figure out how to use a knife with their plate on their lap.
Food
The food doesn't have to be as pink and festive as the decorations because at the end of the day, your guests want to eat the food, not look at it. You really just need dishes that are easy to make in large quantities.
However, these are some ideas for valentine-ing your brunch display:
- Heart-shaped pancakes (go for red velvet batter if you're feeling extra fancy)
- Red berries and pink chocolate chips (for on the pancakes or on the side)
- Scrambled eggs with tomato (easiest egg dish to make in large quantities)
- Toast or biscuits with strawberry or raspberry jam (easily the most forgotten piece of a brunch that will make sure everyone leaves the table with a full stomach)
Drinks
Mimosa
So this one isn't pink, and pink dye mixed with orange juice doesn't sound appetizing. But, I'm a firm believer in the mimosa being the key to any successful brunch.
Anyway, you can always get cute little plastic champagne flutes with hearts on them or something if you feel wrong about serving an orange drink.
Bloody Mary
This is an obvious one, but hey, it's a red drink.
Anything With Grapefruit
This is my new favorite kind of cocktail, and it happens to be pink. My personal favorite way to enjoy this is frozen with vodka, but I have a few recipes I'm borrowing from Serious Eats.
Long Faced Dove
This drink includes tequila, Campari, grapefruit juice, lime juice, simple syrup and ginger beer.
Grapefruit And Ginger Sparkler
This drink is super quick to make. It calls for grapefruit juice, sparkling wine and Domaine de Canton ginger liqueur.
Activities
Cookie Decorating
If your friends aren't the artsy type, then do this yourself. But why not relive your childhood sleepover days and have your girls frost some sugar cookies?
There's a good chance you're all going to be buzzed by the time you start decorating anyway, so it'll be an interesting time.
Drinking Game
This one doesn't necessarily have to be a drinking game. I've seen dry suggestions online like, "Put a sticker on your arm every time you say [insert word]," so you can do it either way.
Basically, since it's Valentine's Day weekend, anytime someone says "love" (or choose some other word), he or she has to drink.
Any party that involves drinking can become dangerous. Always have a place to collect keys so no one tries to drive home drunk, and always watch your alcohol intake, especially as the party host.
As long as you have food, drinks and company, even the biggest Valentine's Day haters will leave your party with a smile.