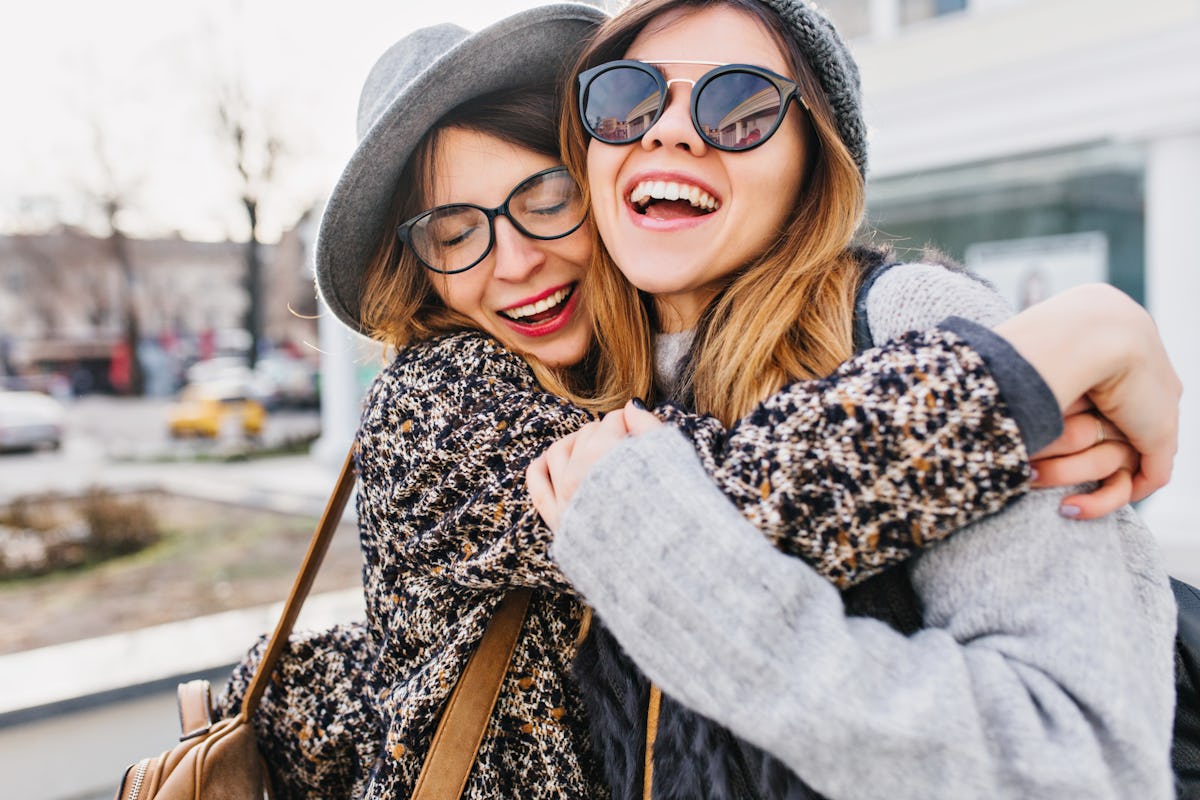 27 Galentine's Day Captions That Celebrate Your Favorite Humans
ShutterStock
There are some days when I look at my group of girlfriends and wonder how in the world I ever survived without them. They've been there through the thick and the thin, and I can trust them with anything. You know your core group of friends is vital to your life, too. So if you're looking for another way to showcase the love you have for your girls on Galentine's Day, these Galentine's day Instagram captions are a great place to start.
Each person in your friend group adds their own unique flair — whether that be their humor, their courage, their encouragement, or their love for others. The one day of year is coming when it's solely the time to celebrate these girls, and I don't know about you, but I intend to take full advantage of it.
Whether you've known your girl squad forever or you formed a close group more recently, there's no doubt they feel irreplaceable in your life. Thanks to Leslie Knope — everyone's favorite girl crew adviser — we get the excuse to love on our friends even more right before loving on our significant other. No matter the occasion, though, these 27 captions are the perfect way to celebrate your girls.
1. "We need to remember what's important in life: friends, waffles, work. Or waffles, friends, work. Doesn't matter, but work is third." — Leslie Knope, Parks and Recreation
2. "Love these ladies a waffle lot."
3. "Spilling the tea never gets old."
4. "Roses are red, violets are blue, I love smashing the patriarchy with you."
5. "Happy Galentine's day, you beautiful tropical fish."
6. "This crew will always have a pizza my heart."
7. "This squad is forever."
8. "Ovaries before brovaries." — Leslie Knope, Parks and Recreation
9. "Be the Leslie Knope of whatever you do."
10. "No judgement here."
11. "You're my butter half."
12. "You suck less than most people."
13. "You're my favorite person to do absolutely nothing with."
14. "You always find a way to make my day a little brighter."
15. "I'm so glad you're as weird as me."
16. "Without you, my life would suck."
17. "Good friends are like stars. You may not always see them but they're always there." — Christy Evans
18. "Because of you I laugh a little bit harder, cry a little less, and smile a lot more."
19. "I never let my best friend do stupid things... alone."
20. "We don't meet people by accident. They are meant to cross our path for a reason."
21. "You will always be the sister of my soul, the friend of my heart."
22. "You're my Nemo. If you get lost, I'll find you."
23. "We'll be the old ladies causing trouble in the nursing home."
24. "The only people I'd share my box of chocolates with."
25. "Nothing can compare to the stomach ache you get laughing with your best friends."
26. "Hello from your local girl squad."
27."I may not always be there with you, but I always will be there for you."
This article was originally published on