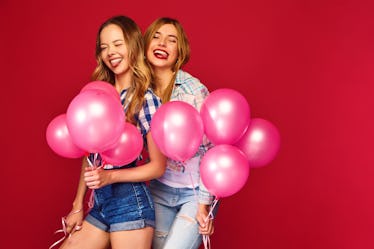 8 Thank Yous Every Girl Owes Her Best Friend This Galentine's Day
By the looks of the heart-shaped pillows and teddy bears filling up store shelves, it's clear Valentine's Day is right around the corner. But for some of us, there's another special occasion that takes place the day before. I'm talking about Galentine's Day — aka, the holiday that was invented by Leslie Knope from Parks and Recreation. You seriously don't know what you would do without your bestie, and there are several thank yous every girl owes her best friend this Galentine's Day.
Every year on Feb. 13, best friends come together to celebrate friendship with their very own date nights. This could consist of having dinner at a cute restaurant with Insta-worthy cocktails (if you're 21 or over), or heading to karaoke. Whatever you have planned, you know that a big heartfelt "thank you" is also on the agenda. You plan to shower your bestie with all the love she deserves, and sometimes, that means showing her all of the reasons why she's truly the best.
So, put it in a card, a thoughtful Instagram post, or tell it to her in person when you're hugging her super hard. Let her know that, because of these eight things, you're eternally grateful to call her BFF and spend every Galentine's Day with her.