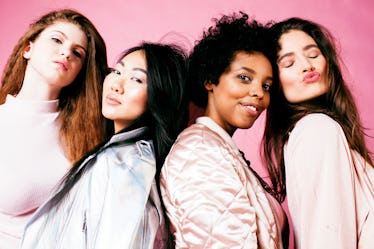 10 Thank Yous Every Girl Owes Her Friend Group Since Day One
When you've had the same friend group since day one, the phrase, "squad comes first" has never felt more real. These are the friends who truly put the "forever" in BFF. This crew is special from any other friend group, because you stuck by one another through the teenage drama, and continue to support each other as you all figure out adulthood. It's always a blast whenever they're around, which is why you haven't really had the time to stop and think about all of the thank yous every girl owes her friend group since day one.
It's not that you haven't been eternally grateful for them. You're forever feeling blessed, but it's nice to say exactly how you feel every once in a while. It doesn't even take much other than a simple text or phone call, but you could also plan a BFF brunch where you go around giving thanks.
Consider saying "thanks" to your forever squad all year round for these 10 things that make them so special to you. You might even want to dedicate an entire Instagram post out of the blue with the cutest group selfie you have on your phone. They deserve the shower of love and affection coming their way, because for you, squad will always come first.