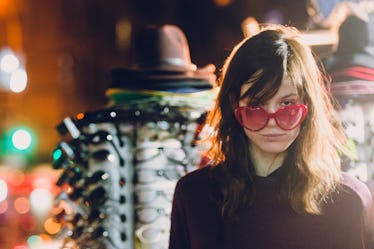 9 Valentine's Day Memes For People Who Want The Holiday To GTFO This Year
Lauren Naefe/Stocksy
There's nothing like a meme to make you say, "same." Valentine's Day is right around the corner, and you might already be so over it. Candy hearts are cute and all, but have you seen the video of the turtle befriending the cat? Where's their special day? Ugh, just rude. Truth is, we love the Internet for all of its hilarious and relatable #content. Spending hours scrolling through social media isn't difficult when there are puppies doing cute things every other picture. The Valentine's Day memes, in particular, always seem extra on point — especially if you're one of those people who wants the day dedicated to love to truly GTFO this year.
There's quite literally a holiday for everything. You could totally blow your cash on discounted chocolate, but you're saving your money for World Nutella Day and National Pizza Day. Ordering an extra large pie and not having to share a single slice is somewhat of a dream, let's be honest. Nobody likes to share food, and our feelings about that are only made stronger when there's a layer of cheese to consider.
Everything is pink and red, and there are hearts everywhere. You feel a little like April Ludgate from Parks and Recreation, wishing it was Halloween and dodging hugs left and right. Sure, you have your feelings and haven't totally signed off on love. You'd just rather send one of these memes instead of a corny card this year.