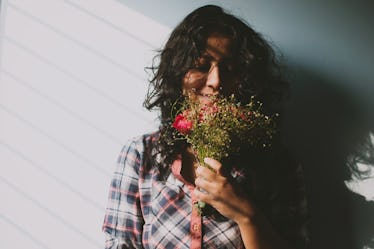 7 Solo Dates To Take Yourself On This Valentine's Day, Because You Deserve It
Cloud Studio/Stocksy
It's time to treat yo' self. Valentine's Day is right around the corner, and if you're celebrating single this year, you don't have to be sad. The holiday has a way of making couples feel extra cute, and the single ladies and gents of the world might be feeling a little bit blue. Sure, scrolling through post after post on Instagram of your besties and their baes looking dapper for date night might make you want to roll your eyes. But, if we've learned anything from being 20-something, it's that self care is incredibly important. These solo dates for Valentine's Day will have you feeling like the only special someone you need is yourself.
We love Valentine's Day for the discounted candy, cheesy cards, and nostalgia of giving out both to our classmates back when we were kids. Our teachers would have a party in class, with those frosting-covered cookies in place of boring math lessons.
Nowadays, the day dedicated to love is a little different. The day before we celebrate Galentine's Day with bestie brunch and unlimited mimosas. And if we don't have a date for V-Day night, we spend some time snuggling with our dogs, or suddenly declare that relationships are overrated.
Whatever you find your feelings to be this year, I hope you're not so cynical about love. Take the day to treat yo' self with one of these seven solo date ideas, and know that the universe will give you something spectacular when the time is right.