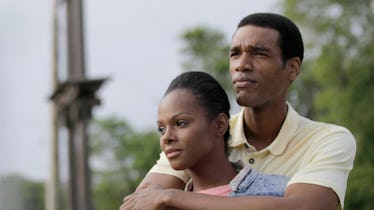 7 Movies On Netflix To Watch On Galentine's Day That Will Make You Feel All The Feels
Roadside Attractions
Ladies, listen up. Galentine's Day is coming in hard and fast, and we love nothing more than shacking up, hunkering down, and committing to a good ol' fashioned movie night with our girls. There's a ridiculous misconception out there that Galentine's Day is reserved for sad, single women who don't want to spend the night alone. In reality, we're all just looking for excuses to hang out with our girlfriends and shoot the shit anyway (even if we're in relationships)! Below, we've collected seven awesome romantic movies to watch on Netflix this Galentine's Day to say "F the haters" and "Hello, happiness."
When choosing your movie, there are a couple things to take into consideration. Predominantly, what kind of romance are you in the mood for? No judgment if the answer is a sappy love story that will make you bawl your eyes out. I freaking LOVE doing that! But, if you're looking for a good belly laugh with your besties, or a solid, female-driven plotline, we have a few good options here for that, too.
The number one rule on Galentine's Day is to embrace your guilty pleasures.
Here. Pick your poison.
1. Breakfast At Tiffany's
If you're looking for a safe bet, always turn to Katharine Hepburn. Bonus points if you and your women dress up in matching pajamas and sleep masks. Snack of choice? Danishes and coffee, obviously.
2. Bring It On
I know what you're thinking. "Hey, Jamie. Would you really consider this a romantic movie?" No, obviously. But, I would consider it a CLASSIC, A TRIUMPH, THE MOVIE OF OUR GENERATION. I like to pair this flick with old-school jungle juice and my best cheer choreography. Push back the furniture and BRING IT. (Plus, what's-her-face kisses what's-his-face at the end, so it counts.)
3. Rent
There is always room for a musical on any Galentine's lineup. My personal go-to is Rent, because duh, but I won't discriminate when it comes to your favorite Broadway adaptations. There are so many love stories going on in this movie, pick the one that speaks to you the most and cry it out, baby.
4. Southside With You
This is the big tear-jerker on the list, mainly because it will make you miss Barack and Michelle Obama so bad that you die inside. Southside With You follows the former POTUS' and FLOTUS' courtship and will remind you of happier times when hope was real and dreams were still possible.
5. Magic Mike
Actually, maybe this one is better to watch alone... for, like, privacy*.
...
...
...
;)
6. How to Lose A Guy In 10 Days
I know. I know. It's an impractical story that follows two stereotypical characters behaving in traditional and gross gender roles. But, we just love Kate Hudson's yellow dress in the yacht scene so goddamned much! Do your best to get past the shitty plotline and focus on that buttery satin.
7. The Reader
This is my curveball. I saw this film in college and weirdly ugly-cried for, like, three days. Kate Winslet can do no wrong, and the complicated story is beautifully crafted and delicately handled. For dramatic effect, pair this flick with wine, turn off the lights, and watch by candlelight.
You can pick your favorite movie above or watch them all in one sitting. Just make sure you pad yourself with the appropriate clothing, booze, props (like tissues and waterproof mascara), and pick a location you can pass out in for the night. Once you make it through this list, you'll need a good, hard snooze and some strong coffee in the morning.
Happy Galentine's Day! I love you! Bye!
Check out the entire Gen Why series and other videos on Facebook and the Bustle app across Apple TV, Roku, and Amazon Fire TV.