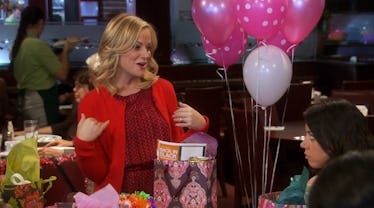 9 Galentine's Day GIFs That Celebrate Being Single With Your Ladies
NBC/Netflix
Okay, ladies. Now, you know what time of the year it is. Valentine's Day is right around the corner, which means date nights and discounted candy. But, the day before, Feb. 13, is the unofficial day we dedicate to loving the ladies in our lives -- and it's so much sweeter than those boxes of chocolates. From our favorite television besties to those girl power bands, there are tons of Galentine's Day GIFs that remind us we're not truly single this year. We have a squad of significant others right in our girl crew.
If it wasn't for Leslie Knope on Parks and Recreation, I don't know if Galentine's Day would be quite as grand as it is now. Sure, we all show our besties some appreciation throughout the year. What would we do without them after all? But Knope is the first to make that mark on the calendar and truly celebrate gal pals — and the best gift giver at the annual brunch. Will she ever be beat?
Truth is, we are independent ladies who don't need someone else to define us. Should I say it louder for the people in the back? Even if you have that special someone to share Valentine's Day with, I hope you make a date with the girls who have been in your life through the best and the worst. They've been your shoulder to cry on, texted back paragraphs to your personal drama, and never let you go at life's adventures alone. Our femme friends deserve all the love, and these nine GIFs will get you in the mood to celebrate being single, but still oh-so-lucky.