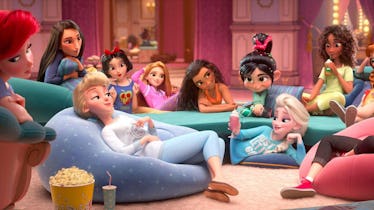 7 Disney Movies You & Your Single Friends Should Watch On Galentine's Day
'Ralph Breaks The Internet.'
Who needs Valentine's Day when there's Galentine's Day? It's a special day that brings your whole squad together to celebrate each other. That means you don't need a partner or crush in order to party in February, because you have a great crew of friends who you love. Instead of dressing up and going out for a fancy meal, you might opt for a cozy night in with your besties. All you really need are your favorite snacks, comfy PJs, your besties, and the best Disney movies on Netflix.
Galentine's Day is about spending time with the people in your life who are there for you through thick and thin. These seven Disney movie classics that are available on Netflix have some of the best Disney heroines who you would totally invite into your squad. If Disney princesses have taught you anything, it's that you don't need a bae in order to save the day — especially when Valentine's Day rolls around.
Your party this year will be an awesome Galentine's Day Disney movie marathon, because Netflix has so many movies you want to revisit — from animated classics to new live actions. Just don't forget the popcorn as you celebrate loving all the royalty in your life.
This article was originally published on