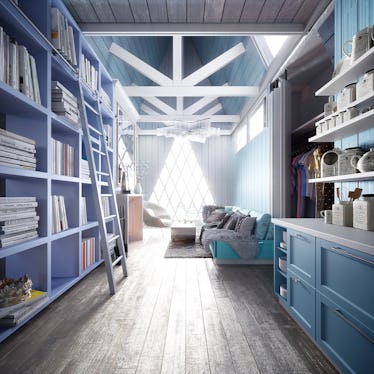 These Cool Tiny Homes Are Inspired By Your Favorite Disney Characters
Incorporating your love of Disney into your adult lifestyle is simpler than you may think. One of the ways to do this is by taking inspiration from your favorite Disney characters when decorating your home. In recent years, you've probably seen the tiny house movement happening, where people are moving into budget and eco-friendly smaller homes. Well, if Disney characters had tiny homes, you don't have to wonder what they'd look like anymore.
Thanks to Angie's List, you can now see what the homes of six different Disney characters would look like if they were inspired by the tiny house movement. For instance, Elsa might incorporate her iconic icy blue color into the design, and Woody might make his home look a cowboy's dream come true. According to Angie's List, the team re-watched Disney films, keeping their eyes peeled for clues into what each one of the Disney character's decorating choices would be.
Of course, you don't need another excuse to watch some of your favorite Disney movies, but watching with a design objective could give you a new perspective. So with all of that research done, Angie's List has come up with these six tiny homes that you can now admire and try to emulate in your own space if you're looking for a magical upgrade.